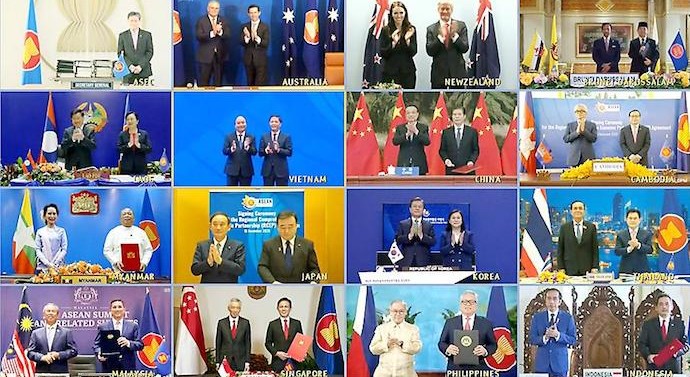 China-led world's largest free trade deal unites nations covers 30% of global trade and 2.2 billion people
Fifteen Asia-Pacific countries have signed the world's biggest free trade deal, covering 2.2 billion people and 30 percent of the world's economic output.
The leaders of China, Australia, Japan, New Zealand, South Korea signed the deal, alongside members of the 10-nation Association of Southeast Asian Nations (Asean), including Indonesia, Malaysia, Thailand, Brunei, Cambodia, Laos, Myanmar, the Philippines, Singapore and Vietnam.
The Regional Comprehensive Economic Partnership (RCEP) was signed over a video link after eight years of negotiations as the world's economy is struggling to survive the threats posed by COVID. The deal was inked by prime ministers and their trade ministers at a virtual conference
The leaders' statement said the deal "demonstrates our strong commitment to supporting economic recovery, inclusive development, job creation and strengthening regional supply chains as well as our support for an open, inclusive, rules-based trade and investment arrangement".
'Under the current global circumstances, the fact the RCEP has been signed after eight years of negotiations brings a ray of light and hope amid the clouds,' said Chinese Premier Li Keqiang after the virtual signing.
Australia's prime minister, Scott Morrison, said the deal would "open up new doors for Australian farmers, businesses and investors".
Prime Minister Jacinda Ardern believes that "New Zealand industries will directly benefit from this new agreement, helping us to accelerate our economic recovery and build back better."
Singapore's Prime Minister Lee Hsien Loong described the signing of the pact as a "major step forward for the world, at a time when multilateralism is losing ground, and global growth is slowing". The trade deal, he said, would help "promote freer trade and closer interdependence especially in the face of COVID-19" when the economies of all countries are under pressures.
The trade deal is seen as a China-led alternative to a now-defunct Washington trade initiative, Trans-Pacific Partnership (TPP).
The RCEP 'solidifies China's broader regional geopolitical ambitions around the Belt and Road Initiative (BRI)', according to said Alexander Capri, a trade expert at the National University of Singapore Business School.