US threatens 'strongest' sanctions on Iran if demands not met

U.S. strategy of stick and carrot towards Iran deliberated by the Secretary of State Mike Pompeo
IRIA Exclusive - May 23, 2018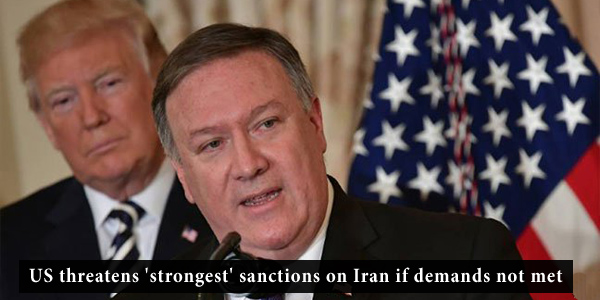 US Secretary of State Mike Pompeo has threatened Iran with the "strongest sanctions in history" if it does not comply with a dozen of US demands.

Pompeo announced the 12 points in a speech at the Heritage Foundation think tank in Washington, D.C. on May 21, 2018. The US strategy came nearly two weeks after U.S. President Donald Trump pulled the US out of multi-national Iran Deal, also known as the Joint Comprehensive Plan of Action, or JCPOA. Under that deal, sanctions against Iran had been lifted in exchange for certain limits on its nuclear activities.

According to the Department of Treasury, the US will begin reimposing those economic and other restrictions, one within 90 days and another no later 180 days after Trump's announcement. Pompeo's comments however suggest there would be additional sanctions on Iran if it does not comply with US demands.

The United States has laid down a list of demands that U.S. Secretary of State Mike Pompeo hinted while addressing the Heritage Foundation meeting on May 21, 2018, in Washington.


The U.S. demands can be summarized as follows:

1. Iran must declare to the IAEA a full account of the prior military dimensions of its nuclear program, and permanently and verifiably abandon such work in perpetuity.

2. Iran must stop enrichment and never pursue plutonium reprocessing. This includes closing its heavy water reactor.

3. Iran must also provide the IAEA with unqualified access to all sites throughout the entire country.

4. Iran must end its proliferation of ballistic missiles and halt further launching or development of nuclear-capable missile systems.

5. Iran must release all US citizens, as well as citizens of our partners and allies, each of them detained on spurious charges.

6. Iran must end support to Mthe iddle East terrorist groups, including Lebanese Hezbollah, Hamas, and the Palestinian Islamic Jihad.

7. Iran must respect the sovereignty of the Iraqi government and permit the disarming, demobilization, and reintegration of Shia militias.

8. Iran must also end its military support for the Houthi militia and work towards a peaceful political settlement in Yemen.

9. Iran must withdraw all forces under Iranian command throughout the entirety of Syria.

10. Iran, too, must end support for the Taliban and other terrorists in Afghanistan and the region, and cease harboring senior al-Qaeda leaders.

11. Iran, too, must end the IRG Qods Force's support for terrorists and militant partners around the world.

12. And too, Iran must end its threatening behavior against its neighbors — many of whom are US allies. This certainly includes its threats to destroy Israel, and its firing of missiles into Saudi Arabia and the United Arab Emirates.

13. It also includes threats to international shipping and destructive — and destructive cyber attacks.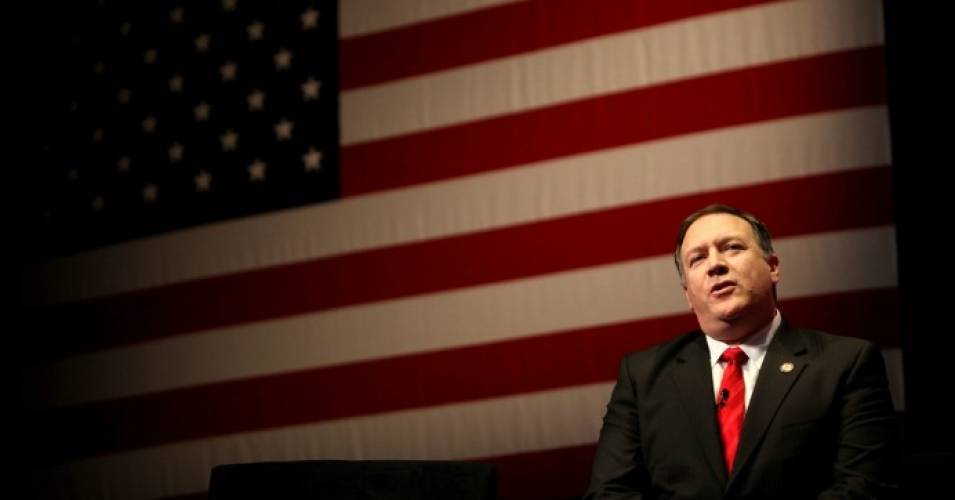 According to the U.S. Secretary of State if Iran would meet all the U.S. demands summarized above then the United States would be ready to do the following as a reciprocal gesture.

1. First, once this is achieved, we're prepared to end the principal components of every one of our sanctions against the regime.

2. We're happy at that point to re-establish full diplomatic and commercial relationships with Iran. And we're prepared to admit Iran to have advanced technology.

3. If Iran makes this fundamental strategic shift, we, too, are prepared to support the modernization and reintegration of the Iranian economy into the international economic system. But relief from our efforts will come only when we see tangible, demonstrated, and sustained shifts in Tehran's policies.

4. We acknowledge Iran's right to defend its people. But not its actions which jeopardize world's citizens.

5. Also, in contrast to the previous administration, we want to include Congress as a partner in this process.

6. We want our efforts to have broad support with the American people and endure beyond the Trump Administration. A treaty would be our preferred way to go.

The U.S. Secretary of State Mike Pompeo also tried to assure Iran that this time U.S. would be interested to make a deal that would be "unlike the JCPOA, which was broadly rejected across both sides of the aisle, an agreement that President Trump proposes would surely garner this type of widespread support from our elected leaders and the American people."