Qatar Crisis:
Inside demands by Gulf countries disclosed
IRIA Exclusive - July 5, 2017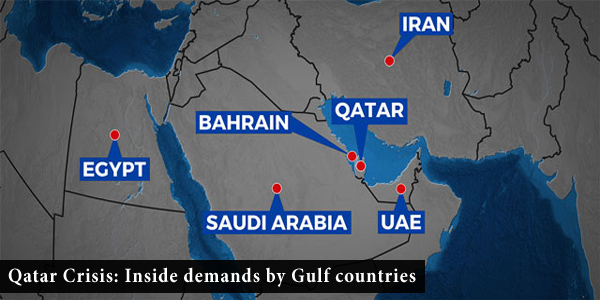 The foreign ministers of Saudi Arabia, Egypt, the United Arab Emirates and Bahrain are expected to meet in Cairo on July 5, 2017 to discuss a future strategy against Qatar. But more importantly the military chiefs of all the four countries opposed to Qatar are also due to hold an unpublicized meeting in Cairo.

Reports from Saudi Arabia confirm that in addition to the published demands all the four countries are demanding Qatar to break all links and contacts with "Islamic State" (ISIS), elements of "Al-Qaeda" and Lebanon-based and Iran-backed Hezbollah leadership.

All the four countries are also demanding a closure of Qatar's diplomatic mission in Iran and expel all the members of Iran's elite revolutionary guard.

Saudi Arabia and Egypt have made it clear that they would not oppose Qatar, if the country will maintain trade and business relationship with Iran but that too in full implementation of the U.S. imposed sanctions on Iran.

Earlier, Saudi Arabia, the United Arab Emirates, Bahrain, Egypt, Yemen and the Maldives broke off relations with Qatar in one of the worst diplomatic crisis in Gulf States history.

Gulf States blamed Qatar for supporting the terrorist groups, including Muslim Brotherhood, Hezbollah, Al-Qaeda and ISIS.

Qatar was given 10+48 hours days to meet the 13 demands issued by Arab countries. The list of demands, asserted that Qatar should curtail its relations with Iran, close Turkish military base and shut down the Al Jazeera network.

However, IRIA sources in the Middle East has learnt that Saudi Arabia, Egypt, the UAE and Bahrain are more interested in the following demands that should be met by Qatar as soon as possible:

1. Hand over all individuals who are wanted by the four countries for terrorism;

2. Stop funding any extremist entities that are designated as terrorist groups by the U.S.;

3. Refuse to naturalize citizens from Bahrain, Egypt, Saudi Arabia and the UAE and expel those currently on its territory, in what the countries describe as an effort to keep Qatar from meddling in their internal affairs;

4. Provide detailed information about opposition figures whom Qatar has funded, ostensibly in Saudi Arabia and the other nations;

5. Align itself politically, economically and otherwise with the Gulf Cooperation Council (GCC);

6. Stop funding other news outlets in addition to Al Jazeera, including Arabi 21 and Middle East Eye;

7. Pay an unspecified sum in compensation to effected countries due to Qatar's support for militants and radicals;

These demands have not been officially unveiled and their publication has increased the friction between the two sides.