Nuclear powers modernize arsenals as numbers fall

Modernization of nuclear weapons continues despite reduction
IRIA Exclusive - October 12, 2019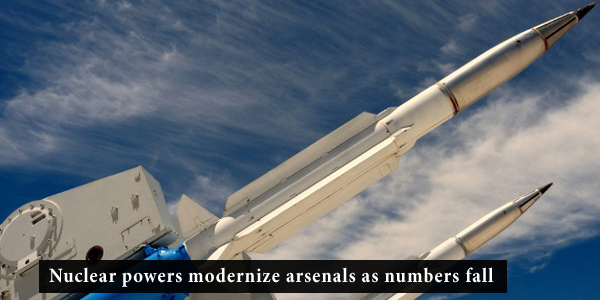 Despite an overall reduction by around 600 nuclear weapons from last year, the nuclear-power nations continue to modernize their arsenals, according to the latest annual report by Sweden-based peace research institute.

Nine nuclear-weapon powers — the United States, Russia, the United Kingdom, France, China, India, Pakistan, Israel and North Korea — had an estimated 13,865 nuclear weapons at the start of 2019, the Stockholm International Peace Research Institute (SIPRI) reported. The estimates include both deployed and other warheads in reserve or awaiting dismantlement. About 2000 of these missiles are kept in a state of high operational alert. The year before there were approximately 14,465 warheads.

Overall, the stocks of nuclear warheads continue to decline mainly due to Russia and the USA (that jointly account for over 90 per cent of world's nuclear arms) reducing their arsenals in line with the 2010 Treaty on Measures for the Further Reduction and Limitation of Strategic Offensive Arms (New START) while also making unilateral reductions. Russia and the United States have 6,500 and 6,185 nuclear warheads respectively.

"The prospects for a continuing negotiated reduction of Russian and US nuclear forces appears increasingly unlikely given the political and military differences between the two countries," said Shannon Kile, SIPRI's director of nuclear disarmament, arms control and non-proliferation program.


The modernization of nuclear forces continues despite reduction

One of the alarming key findings of the SIPRI report is the modernization of nuclear warheads, missile and aircraft delivery systems, and nuclear weapon production facilities by US and Russia. "Both the USA and Russia are on a path of strategic nuclear renewal. In the USA, this includes enhanced and modernized nuclear weapons, a proposed new Space Force and an expanded program of ballistic missile defense. In Russia, the strategic path is no less expansive" the report noted.

The nuclear arsenals of the other countries are substantially smaller, but all are either developing or deploying new weapon systems including the three Asian neighbors China, India and Pakistan. "India and Pakistan are expanding their military fissile material production capabilities on a scale that may lead to significant increases in the size of their nuclear weapon inventories over the next decade," says Kile.

Meanwhile, North Korea has prioritized its military nuclear program as a key component of its national security strategy, although in 2018 it announced a one-year halt in missile testing.


World nuclear forces

| | | | | |
| --- | --- | --- | --- | --- |
| Country | Deployed warheads | Other warheads | Total 2019 | Total 2018 |
| USA | 1750 | 4435 | 6185 | 6450 |
| Russia | 1600 | 4900 | 6500 | 6850 |
| UK | 120 | 80 | 200 | 215 |
| France | 280 | 20 | 300 | 300 |
| China | | 290 | 290 | 280 |
| India | | 130–140 | 130–140 | 130–140 |
| Pakistan | | 150–160 | 150–160 | 140–150 |
| Israel | | 80-90 | 80–90 | 80 |
| North Korea | .. | .. | (20–30) | (10–20) |
| Total | 3 750 | 10 115 | 13 865 | 14 465 |
Source: SIPRI Yearbook 2019 - All estimates are approximate


Details on nine nuclear-power countries
Nine states — the United States, Russia, the United Kingdom, France, China, India, Pakistan, Israel and North Korea — possessed approximately 13,865 nuclear weapons, of which 3750 were deployed with operational forces by 2019. The US and Russia were the only nations that decreased their warhead inventory, by 265 and 350 respectively, according to the report. The UK, China, Pakistan, North Korea and possibly Israel all increased their number of warheads, SIPRI found. India and France reported no changes to the size of their arsenals.

US to develop and modify nuclear weapons
United States maintains one of the world's largest operational arsenals: approximately 6,185 warheads, of which 1,750 are deployed. It includes an approximated 1,500 strategic warheads based in the United States and 150 nonstrategic warheads deployed in Europe, as well as 700 deployed delivery systems. Although the US nuclear stock dropped from 6450 to 6,185 according to the latest data, however, the US Department of Defense in 2018 indicated to expand military roles and missions by developing new nuclear weapons and modifying others. Trump administration's Nuclear Posture Review (NPR) seeks to increase reliance on nuclear weapons. Trump highlighted the US nuclear arsenal as the foundation of his strategy for maintaining peace and stability and deterring aggression against the US citing uncertain international security environment. "The United States now faces a more diverse and advanced nuclear-threat environment than ever before, with considerable dynamism in potential adversaries' development and deployment programs for nuclear weapons and delivery systems" the NPR declares, naming conventional, chemical, biological, nuclear, space, and cyber threats, and violent non-state actors as unprecedented range and mix of threats.

Russia
Russia, the world's second nuclear weapon state, has one of the most advanced missile programs in the world. Russia deploys 1,444 strategic warheads on 527 intercontinental ballistic missiles (ICBMs), submarine-launched ballistic missiles (SLBMs), and heavy bombers. SIPRI data shows Russia has about 6,500 nuclear warheads as compared to last year's figure of 6,850, indicating a sizable reduction. "Russia's decisions about the size and composition of its non-strategic nuclear arsenal appear to be driven by the USA's superiority in conventional forces and not by the US non-strategic nuclear arsenal or by weapons yield," according to the SIPRI report. Russia does not make publicly available a detailed breakdown of its forces counted under New START, even though it shares this information with the USA, says the report.

United Kingdom
The United Kingdom nuclear weapons development dates back to 1940. UK's nuclear deterrent consists exclusively of a sea-based component: Vanguard class Trident nuclear-powered ballistic missile submarines (SSBNs) armed with the UGM-133 Trident II D5 submarine- launched ballistic missile (SLBM) and associated warheads, and their support infrastructure. The UK owns an arsenal of about 150 operational nuclear warheads that are available for use by a fleet of four Trident SSBNs. However, the UK does not actually own the missiles, but leases them from a common pool of 58 Trident SLBMs managed and maintained by the US. The UK has joined a US program to extend the service life of the Trident II D5 missile from 2028 until 2042. The country currently has the smallest number of deployed nuclear warheads and has cut its nuclear weapons arsenal considerably since the end of the Cold War.

France
France's nuclear arsenal consists of roughly 300 warheads for delivery by submarine-launched ballistic missiles (SLBMs) and air-launched cruise missile. The stockpile roughly includes 300 warheads for 48 SLBMs and 54 cruise missiles. France is said to possess a limited but diverse missile program and generates approximately 75% of its energy from 58 nuclear power plants.

China
China has an estimated 290 nuclear warheads, a number that has remained relatively stable but slowly growing. Though China is working to expand its nuclear forces, the report notes, it has said it's committed to a no-first-use policy, which has been in place since the first Chinese nuclear test in 1964. China is capable of delivering nuclear weapons through three systems: land-launched nuclear missiles, nuclear missile-armed submarines and strategic aircraft with nuclear bombs and missiles. Reports suggest that in peacetime China stores its nuclear warheads in storage facilities separate from their delivery vehicles and that they are not ready for immediate launch.

India
India has an estimated 130-140 warheads. This figure is based on calculations of India's inventory of weapon-grade plutonium and the number of operational nuclear-capable delivery systems, according to SIPRI, as the country provides little information about the size of their nuclear arsenals. India currently has 22 power reactors in operation at seven plant sites that have a combined capacity of 6780 MW. Meanwhile, 1 new nuclear power reactors expected to be set up within the country by 2031. India's nuclear weapons are believed to be mainly plutonium-based.

Pakistan
Pakistan has an estimated 150-160 nuclear weapons for delivery by aircraft and land-based missiles. Pakistan has developed new types of nuclear weapons, including short-range tactical weapons, sea-based cruise missiles, air-launched cruise missiles, and longer-range ballistic missile, reports suggest. Pakistan's warhead designs are believed to use highly enriched uranium (HEU). With four plutonium production reactors and several delivery systems in development, Pakistan's stockpile is believed to further increase in the coming decade. Pakistan considers its nuclear weapons and their delivery systems as essential to counterbalance India's conventional advantage and maintain the balance of power in South Asia.

Israel
Israel continues to maintain a long-term policy of not commenting on its nuclear arsenal, which means it neither officially confirms nor denies that it possesses nuclear weapons. However, the county is believed to own between 80 and 90 nuclear warheads.

Of these, approximately 30 are believed to be gravity bombs for delivery by aircraft. The remaining 50 weapons are for delivery by Jericho II medium-range ballistic missiles. Jericho III has an estimated range of 3,000-4,000 miles according to Western experts. In 2014 the United Nations General Assembly urged Israel to renounce the possession of nuclear weapons, accede to the 1968 Treaty on the Non-Proliferation of Nuclear Weapons (Non-Proliferation Treaty, NPT) 'without further delay' and place all of its nuclear facilities under International Atomic Energy Agency (IAEA) comprehensive safeguards.

North Korea
The Democratic People's Republic of Korea (DPRK, or North Korea) often announce missile tests but has provided little transparency about it nuclear weapons capabilities. The country is estimated to have 20-30 warheads, which would be an increase of 10-20 warheads from the 2018 approximation. Estimates of the possible size of North Korea's nuclear arsenal are based primarily on reported calculations of the amount of plutonium that North Korea may have separated from the spent fuel produced by its 5 megawatt-electric (MWe) graphite-moderated research reactor at the Yongbyon Nuclear Scientific Research Centre.