Key Takeaways from Biden-Putin Summit

IRIA Exclusive - June 18, 2021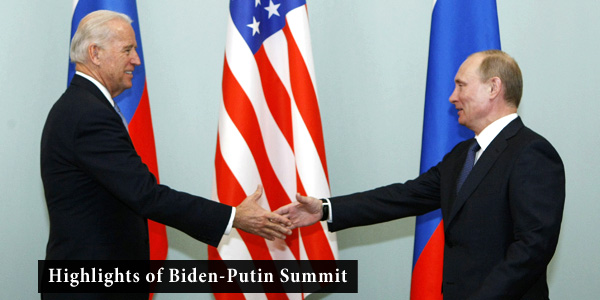 The U.S. President Joseph Biden met with the Russian President Vladimir Putin on June 16, 2021 in Geneva, Switzerland.
During the meeting, President Biden set red lines on cyberwar and shared the list of critical infrastructure with President Putin.

The U.S. president discussed the situation in Ukraine, Syria, and Afghanistan with the Russian president.

President Biden urged Russian president to reopen humanitarian corridors in Syria. President Biden and President Putin agreed to work together to protect shared interests in Afghanistan and the Middle East.

President Biden pressed President Putin to negotiate a political solution to end Russia's undeclared war in eastern Ukraine.

President Biden also highlighted the issues of jailed Russian opposition leader Alexei Navalny and discussed the case of two wrongfully imprisoned American citizens in Russia.

The U.S. president pressed Russian president on human rights, election meddling, and cyberattacks. However, President Putin denied his country's involvement in cybercrimes and human rights violations.

Both presidents agreed to bring stability to the U.S.-Russia relations and lead the rules-based world order. President Biden and President Putin also agreed to launch bilateral strategic stability dialogue and work together on a mechanism to reduce the prospects of accidental war.

The United States and Russia agreed to stop the Cold War mentality and move forward to bring predictability in the relations. Both presidents agreed to return ambassadors to capitals, regularize the diplomatic engagement, and discuss ways to cooperate on issues of mutual interests.

The U.S. President Biden also raised the issue of Russia's militarization of the Arctic region and urged that both major powers need to ensure that the region remains a free zone.

Prior to the meeting, President Biden attended meetings with G7 and NATO leaders, and stressed that he has the backing of Western partners. However, the EU leaders disagree on Russia talks.

The European Council calls on Russia to "assume its responsibility in ensuring the full implementation of the Minsk agreements as the key condition for any substantial change in the EU's stance".

EU leaders expect Russia to demonstrate a more constructive engagement, and stop hostile actions against the EU, its member states and third countries.

Despite differences, the U.S. President Joe Biden described the tone of the entire meeting with President Putin as "good and positive".

Russian President Vladimir Putin also acknowledged that the meeting with President Biden was "constructive" and both sides demonstrated a "determination to try and converge our positions".