Aman-21 Joint Naval Exercise
Pakistan hosts 45 Navies for joint drills, U.S., China, Russia, NATO participate

By Wang Lina - February 17, 2021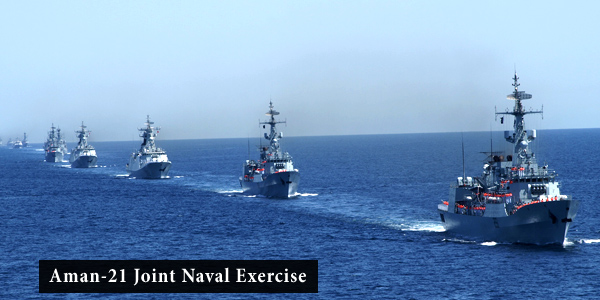 Pakistan Navy hosted its largest multinational maritime exercise named Aman-21 in the North Arabian Sea from February 11-16, 2021. More than 45 countries participated in the exercise with their ships, aircraft, special operation forces, experts and observers.

The most significant aspect of the naval drills was that it gathered the United States, Russia, China as well as NATO members under the platform for collaborative maritime security. The 7th exercise of the series held every two years since 2007 saw the participation of Russian naval ships with multiple NATO members first time in a decade.

Strict COVID-19 protocols were in place this year to ensure safety during the international exercise.




Together for Peace

The Aman-21 (Peace-21) held under the banner of 'Together for Peace' aims to attain regional peace and counter maritime challenges. The exercise provided a platform "to develop doctrinal synergy to tackle maritime security challenges and enhance interoperability among navies" for a secure and sustainable maritime environment, Pakistan Navy Chief Admiral Amjad Khan Niazi said.

Admiral Niazi also highlighted Pakistan Navy's initiative of Regional Maritime Security Patrols (RMSP) to fulfill international obligations besides protecting national interests in the Indian Ocean Region. He hoped that the companionship "will continue to grow and bring them even closer to the cherished goals of realizing regional peace and shared prosperity through collaborative efforts" and stressed that Pakistan Navy is ready to play a positive role for the peace in the region.


Objectives of Aman Exercise:

• Contribute towards regional peace and stability.

• United resolve against terrorism, crimes and other maritime threats.

• Bridge the gap and enhance interoperability between regional and extra regional navies.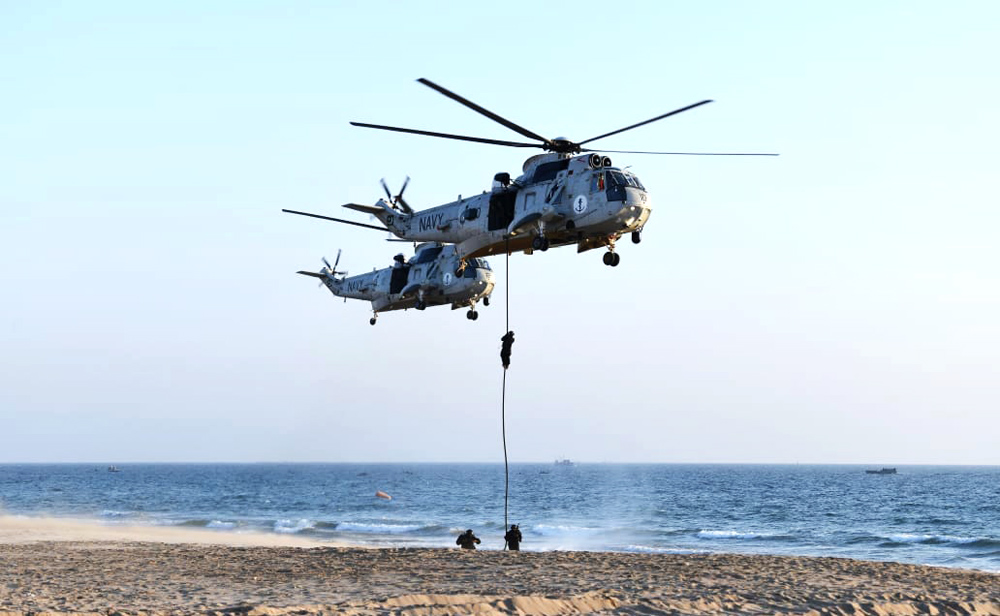 A view of counter-terrorism demo by Special Service Group of Pakistan Navy during Aman-21 Exercise. Image Credit: Pakistan Navy


Participating Ships

U.S., UK, China, Turkey, Saudi Arabia, Sri Lanka, Indonesia, Malaysia and other Arab, African and European countries were among the participants. Commander of Pakistan Fleet Rear Admiral Naveed Ashraf welcomed the support of participating nations "towards Pakistan's quest for peace at sea."

Russian Navy's Black Sea fleet including frigate Admiral Grigorovich, patrol vessel Dmitriy Rogachev, a tug boat, a naval helicopter, as well as by marine and demining units, took part in the drills. The Chinese ships included a Type 052D guided missile destroyer Guiyang, a Type 054A guided missile frigate, the Zaozhuang, and a Type 903A comprehensive supplement ship, the Dongpinghu. Indonesian Navy's KRI Bung Tomo-357 multirole light frigate also joined the drills.


Counter-terrorism drills

The demonstration by Pakistan's Special Operations Forces and thrilling display by navy paratroopers were also part of the exercise. Pakistan Navy SEALs conducted counter-terrorism drills during the exercise at PNS Qasim, exhibiting their strength and skills to respond to potential maritime threats.

The exercise aims to strengthen and develop naval cooperation among the world navies to promote regional stability and counter maritime threats such as terrorism, piracy, terrorism, drugs and arms trafficking, human smuggling, climate change. Pakistan's Chairman Joint Chiefs of Staff Committee General (CJCSC) Nadeem Raza said that the Aman-21 "will promote regional cooperation and stability, greater interoperability and united resolve against terrorism and crimes in the maritime domain."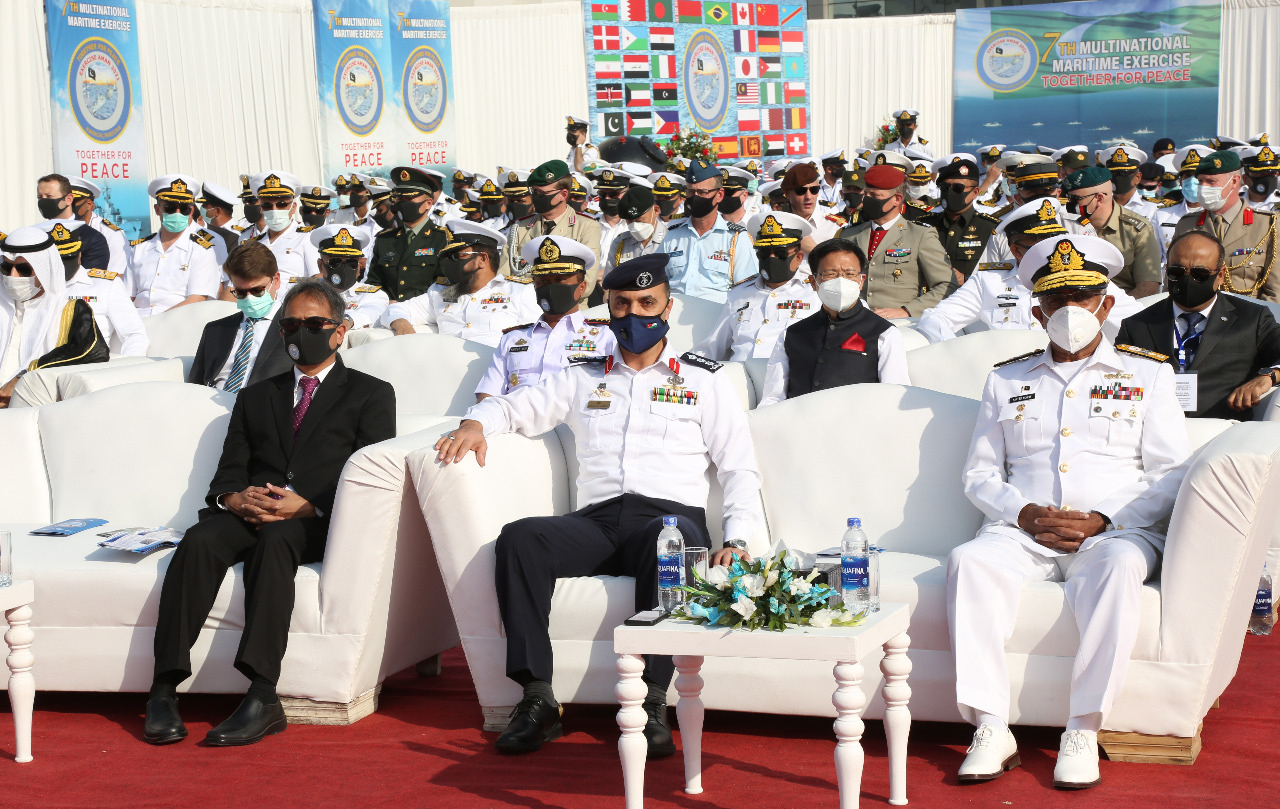 More than 45 countries including the world's top navies took part in Aman-21 Exercise in Arabian Sea. Image Credit: Pakistan Navy


International Fleet Review

The massive exercise concluded on February 16 with an international fleet review in which the participating countries joined Pakistan Navy. The AMAN-21 exercise formation included British Royal Navy Type 23 guided-missile frigate HMS Montrose F-236, Arleigh Burke class guided-missile destroyer USS John Paul Jones, Russia's Admiral Grigorovich frigate, People's Liberation Army Navy (PLAN) Type 052D guided missile destroyer Guiyang, Pakistan Navy F-22P Zulfiquar-class frigate, Japanese destroyer JS Suzunami among others.

The fleet review was followed by drills and maneuvers by Pakistan's navy and air force as well as participating foreign ships and aircraft.

Pakistan's President Arif Alvi, Army Chief General Qamar Javed Bajwa, Navy Chief Admiral Amjad Niazi, Air Force Chief Mujahid Anwar Khan, CJCSC General Nadeem Raza as well as key ministers and several foreign military officials and envoys attended the concluding ceremony.


Exercise Aman significance

Pakistan Navy has been holding the biennial drills since 2007. The exercise that began with only three members 14 years ago saw the participation of more than 40 countries including the world's top navies this year as the fundamental message of collaborative maritime security appealed to the global community.

With the Aman exercise, Pakistan aims to "play the role of a peacemaker and provide platform for China and Russia on one side and US and allies on the other side to come together" commented Dr Khurram Iqbal, the head of IR department at Pakistan's National Defence University (NDU).

Pakistan navy officials say that the exercise demonstrate the country's profound commitment for peace and stability in the region at a time when it is becoming polarized and militarized. Maritime experts say the drills also highlight Pakistan's geostrategic significance especially after the development of country's Gwadar Port, which is described as a hub that connects three regions South Asia, Middle East and Central Asia.