Five Worst Victims of Terrorism
IRIA Exclusive - 23 November 2015
Top 5 countries which are worst victims of terrorism: Global Terrorism Index 2015

Around 78% of all terrorism related deaths occurred in Afghanistan, Iraq, Nigeria, Pakistan and Syria

Global terrorism is at the highest level it has ever been and continues to rise at an "unprecedented pace", according to a new report. Over 32,000 people were killed in terrorist attacks in 2014, which reveals a dramatic rise in terrorism over the last 15 years, according to the 2015 Global Terrorism Index.

Iraq, Nigeria, Afghanistan, Pakistan and Syria remain the five countries most affected by terrorism that accounted for 78 percent of the lives lost in 2014.

Terrorism remains highly concentrated with most of the activity occurring in just five countries — Iraq, Nigeria, Afghanistan, Pakistan and Syria. Although highly concentrated, terrorism is spreading to more countries, with the number of countries experiencing more than 500 deaths increasing from five to 11, a 120 per cent increase from the previous year.


"Ten of the eleven countries most affected by terrorism also have the highest rates of refugees and internal displacement. This highlights the strong inter-connectedness between the current refugee crisis, terrorism and conflict" said Steve Killelea, IEP Founder and Executive Chairman said.


Political violence and conflict have been termed as the two common factors most closely associated with terrorism. However, in the West, socio-economic factors such as youth unemployment and drug crime correlate with terrorism. And in less developed countries, terrorism shows stronger associations with ongoing conflict, corruption and violence" Steve Killelea said.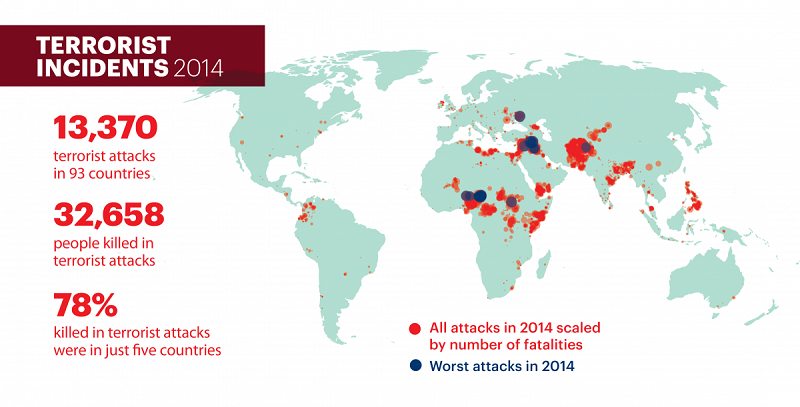 Terrorist activity is highly concentrated in five countries
The five countries with the highest terrorism threats had 11,843 more deaths in 2014. The increase in the number of deaths in these five countries represents 81 per cent of the total increase in deaths.

Around 78% of all deaths and 57% of all attacks occurred in just five countries: Afghanistan, Iraq, Nigeria, Pakistan and Syria in 2014. Despite being highly concentrated in five countries, terrorism is spreading, with more countries recording attacks and deaths.

Now in its third year, the Global Terrorism Index provides a detailed analysis of the changing trends in terrorism across 162 countries, over the last 15 years. The Global Terrorism Index 2015 by Institute for Economics and Peace provides a comprehensive summary of the impact of terrorism in 162 countries, (99% of the world's population). The report investigates the patterns of terrorism by geographic activity, methods of attack, organizations involved and the national economic and political context.


Five countries most hit by terrorism:
1. Iraq
Iraq stands out as the worst-affected country, accounting for 30 per cent of all deaths from terrorism, according to the report. More than 9900 people died in 3370 attacks in Iraq last year. "This is the highest number of terrorism incidents and fatalities ever recorded by a single country," IEP media release says. The report highlights the link between US military intervention and terrorism in Iraq. "The start of the increases in deaths from terrorism in Iraq coincided with the US-led invasion of Iraq in 2003. Deaths from terrorism spiked in 2007 with the surge in US troops in Iraq and then subsequently fell by 56 per cent," according to the report.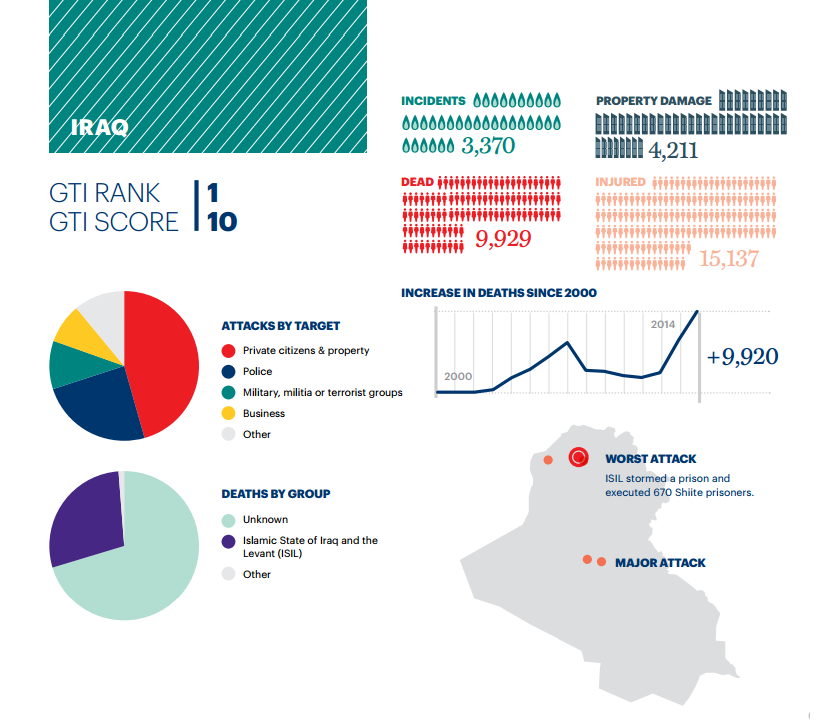 2. Afghanistan
Terrorism continues to increase in Afghanistan, with 38 per cent more terrorist attacks and 45 per cent more fatalities in 2014 than in 2013. Taliban remains one of the most deadly terrorist groups with most attacks in Afghanistan. The deadliness of attacks increased in 2014 with the Taliban killing 3.9 people per attack, over 200 per cent higher than 2013. In 2014 there were terrorist acts in 515 different cities in Afghanistan clearly highlighting the breadth of terrorism across the country.


3. Nigeria
Nigeria experienced the biggest year-on-year increase in deaths ever recorded with 5,662 more people being killed, an over 300 per cent increase. Nigeria experienced the largest increase in terrorist activity with 7,512 deaths in 2014, an increase of over 300% since 2013. Boko Haram was the world's deadliest terrorist group in 2014 killing 6,118 people in Nigeria through terrorist attacks.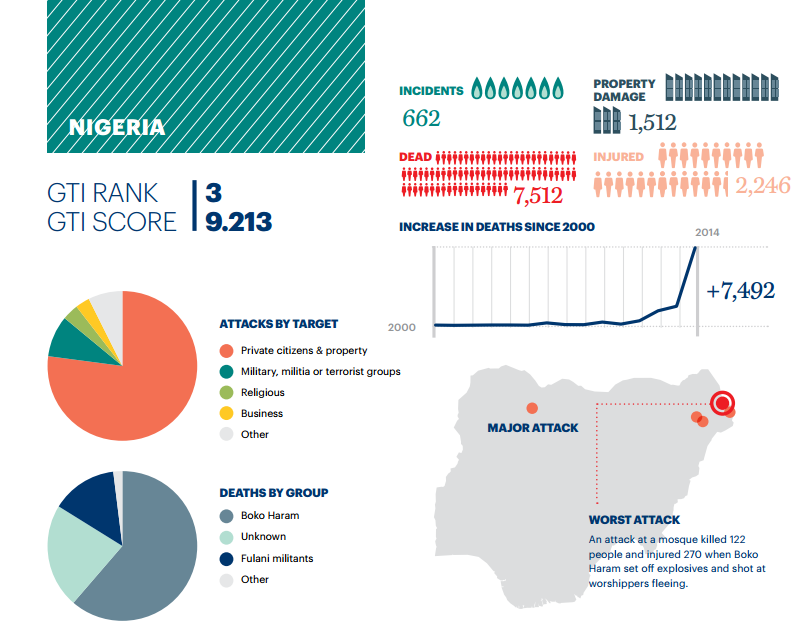 4. Pakistan
There were 1,760 people killed from terrorism in Pakistan in 2014. But the country's ranking improved one position from 2013 as the number of deaths from terrorism declined by 25 per cent. "Pakistan was the only country in the ten most impacted countries that saw a decline in deaths and accordingly it dropped from third to fourth" the report noted. In Pakistan terrorism killed 2,356 people in 2013 whereas 1,760 people were killed in 2014, a difference of nearly 600 people. "This improvement is in part due to the further fracturing of the Tehreek-i-Taliban Pakistan (TTP)," the report claims.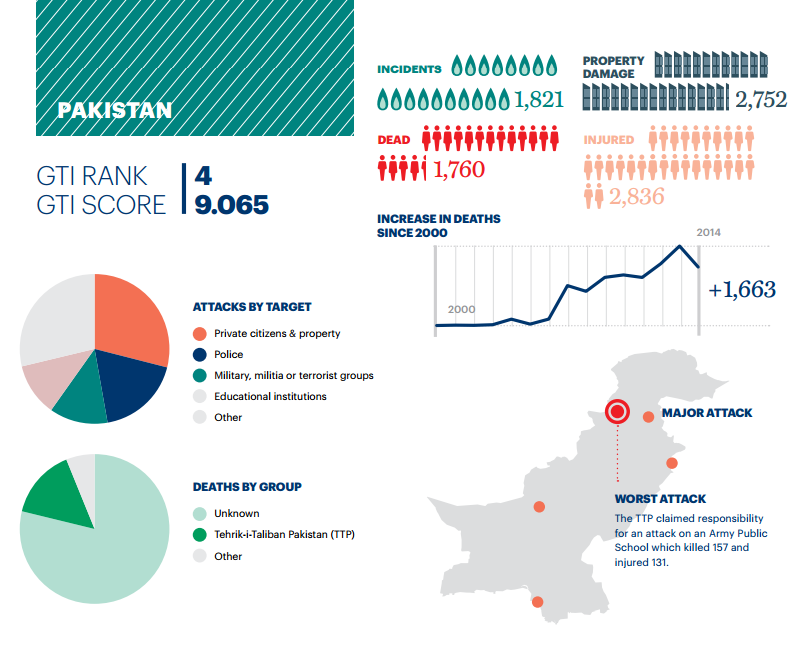 5. Syria
Syria, a country ravaged by civil war, continues to see growing terrorist activity. Before the start of the civil war in 2011, Syria experienced no terrorist incident. The report links terrorism in Syria with civil war. In the year the civil war began Syria had 136 deaths from terrorism. The number of deaths has increased by around 500 each year since the start of the war to 1,698 deaths in 2014. As of September 2015, there are 4.1 million Syrian refugees and 6.5 million people displaced within Syria.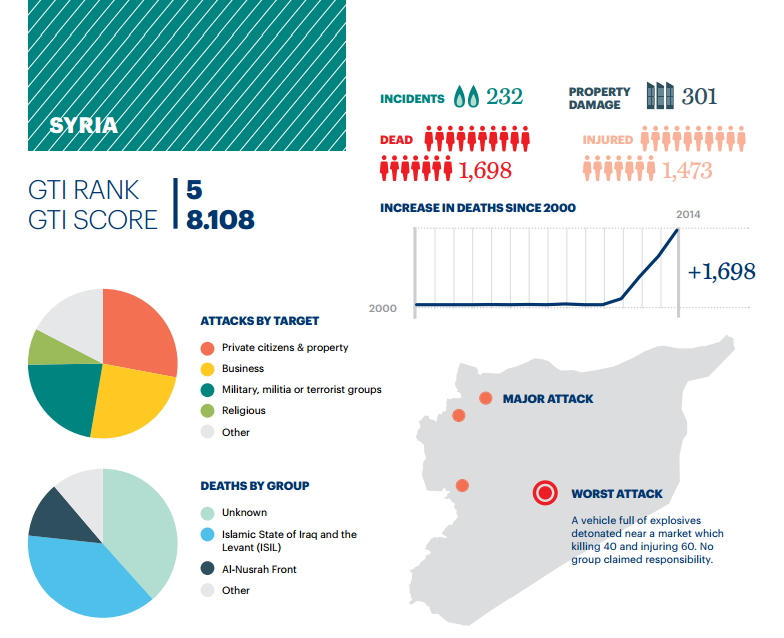 10 countries where terrorism had the greatest impact in 2014
Afghanistan, Iraq and Pakistan have all been ranked in the ten countries with the highest number of deaths from terrorism for every year in the last ten years. Iraq had 25 per cent of all terrorist incidents, followed by Pakistan with 14 per cent and Afghanistan with 12 per cent.
The ten countries with the highest number of deaths in 2014 accounted for 88 per cent of the global total.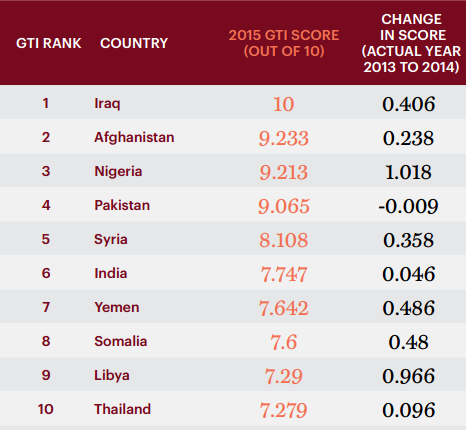 Key Facts of Global Terrorism Index 2015 Report
• Deaths from terrorism increased 80% last year to the highest level ever, with 32,658 people killed, compared to 18,111 in 2013.
• Boko Haram and ISIS were jointly responsible for 51% of all claimed global fatalities in 2014.
• 78% of all deaths and 57% of all attacks occurred in just five countries: Afghanistan, Iraq, Nigeria, Pakistan and Syria.
• Iraq continues to be the country most impacted by terrorism with 9,929 terrorist fatalities while Nigeria experienced the largest increase in terrorist activity with 7,512 deaths in 2014.
• The global economic cost of terrorism reached an all-time peak at US$52.9 billion.
• Since 2000 there have been over 61,000 terrorist attacks, killing more than 140,000 people.
• Thirteen times as many people are killed globally by homicides than die in terrorist attacks.