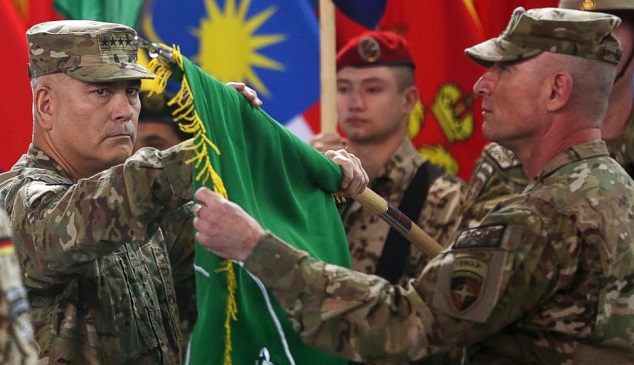 KABUL, Afghanistan — U.S. led war in Afghanistan officially came to an end after 13 years with a quiet flag-lowering ceremony in Kabul that marked the transition of the combat operation to a noncombat support mission.
"Today marks an end of an era and the beginning of a new one. Resolute Support will serve as the bedrock of our enduring partnership with Afghanistan" said Resolute Support Commander, U.S. Army General John F. Campbell.
About 13,000 foreign troops, mostly Americans, will remain in the country under a new, two-year mission named "Resolute Support" that will provide training and support to Afghan security forces.
At the operation's peak, more than 130,000 troops from 50 nations were stationed across Afghanistan. The green-and-white flag of the ISAF was ceremonially rolled up and sheathed, and the flag of the new mission was hoisted, in a small ceremony at the headquarters of the North Atlantic Treaty Organization (NATO) mission.
The low-key ceremony with no live broadcasts or fanfare, however, symbolizes that there is not much to celebrate at the end of the America's longest war. Due to security reasons, the event remained a discreet signifying the fragile security situation of the country and uncertainty over the country's future amid fears of rising insurgency.
There is mostly a sense of regret and exhaustion as a total of 3,485 allied troops died in the past 13 years, including 2,356 Americans, in Afghanistan war that has cost the U.S. $1 trillion since 2001. An estimated 21,000 Afghan civilians have been killed during the conflict, including nearly 3,200 in 2014.
United States government deployed troops in Afghanistan weeks after the September 11, 2001 attacks while International Security Assistance Force in Afghanistan (ISAF) was set up after the U.S. invasion as an umbrella for the coalition of around 50 nations that provided troops and took responsibility for security across the country.
"Thanks to the extraordinary sacrifices of our men and women in uniform, our combat mission in Afghanistan is ending, and the longest war in American history is coming to a responsible conclusion," U.S. President Barack Obama said.
The Resolute Support mission will consist of more than 12,500 foreign troops including 9,000 Americans focused on building Afghan National Security Force (ANSF) sustainability. 28 NATO Allies and 14 partner nations will contribute to the mission in different ways.
Taliban spokesman Zabihullah Mujahid called the ISAF's flag-lowering event a "defeat ceremony" and said the insurgents' fight would continue. "Since the invasion in 2001 until now, these events have been aimed at changing public opinion, but we will fight until there is not one foreign soldier on Afghan soil and we have established an Islamic state," he said.
NATO Secretary General Jens Stoltenberg has said that Afghanistan's 350,000-member security forces are ready to take on the insurgency alone, despite complaints by officials that they lack the necessary assets, such as air support, medical evacuation systems and intelligence.
"We need your help to build the systems necessary to ensure the long-term sustainability of our forces," said Mohammad Hanif Atmar, Afghanistan's National Security Advisor. "This is a formidable challenge for any modern army and police force."
The international community continues to pledge support and financial commitment to help foster an Afghan Decade of Transformation which will be undertaken with the leadership of President Ashraf Ghani and Chief Executive Abdullah Abdullah.
Recounting the achievements of the 13-year war, Gen Campbell said: "Together, we have lifted the Afghan people out of the darkness of despair and given them hope for the future. The Afghan people have spoken. They've chosen progress over backwardness, education over ignorance and transparency over criminality. They've roundly rejected the insurgents' senseless destruction and murdering. This year the Afghan people reasserted their sovereignty".
"We are not walking away" he said describing the lingering challenges even after the end of war. "In spite of all of this, the insurgents continue to kill their fellow Muslims in their misguided cause. It's time for the enemy to heed President Ghani's call, lay down their arms, come to the peace table, and help rebuild the Afghan nation" he proposed.
"The road before us remains challenging, but we will triumph," Gen. Campbell concluded.