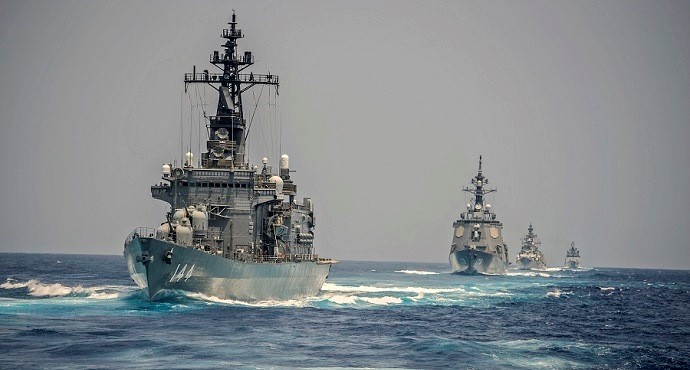 Malabar trilateral maritime exercise includes 16 warships, two submarines, and more than 95 aircraft
The navies of the United States, Japan and India have begun naval exercise in the Bay of Bengal as part of the Malabar 2017 exercise amid a tense border row between India and China.
The three countries have deployed some of their largest warships, aircraft and submarines in the Indian Ocean for an annual naval exercise that is conducted with an eye on China.
Beijing is keeping an eye over the Malabar exercise and has reportedly sent a surveillance ship, the HaiwangXiang, to monitor the Malabar Exercise.
Three aircraft carriers — the USS Nimitz of the U.S. Navy, INS Vikramaditya of the Indian Navy and the JS Izumo of the Japan Maritime Self-Defense Force — are part of the exercise.
The Japanese have fielded their JS Izumo, a helicopter carrier, with SH-60K helicopters and missile destroyer JS Sazanami.
The Indian Navy is represented by the aircraft carrier INS Vikramaditya with its air wing, guided missile destroyer Ranvir, stealth frigates, anti-submarine warfare corvette, missile corvettes, one Russian-made Sindhughosh-class submarine, fleet tanker INS Jyoti and U.S.-made long-range maritime patrol aircraft P8I.
The exercise, to be held from July 10-17, includes 16 warships, two submarines, and more than 95 aircraft. The focus this year is on anti-submarine warfare.
The Malabar exercises are the symbol of New Delhi's strengthening security ties with the United States, which were reaffirmed last month by Indian Prime Minister Narendra Modi and U.S. President Donald Trump.
The annual exercises first began in 1992. Malabar navy drills have since grown in size and complexity in recent years to address what the US Navy describes as a "variety of shared threats to maritime security in the Indo-Asia Pacific."
Originally, Malabar was a bilateral exercise between the US Navy and the Indian Navy, but in 2015, Japan became a permanent member.
Malabar exercise and rising China tension
The build-up of naval power in the region comes at a time of increased tensions between India and China.
Firstly, the US-India-Japan drill comes against the backdrop of a tense face-off with China in Dokalam at the trijunction of India, Bhutan and China. Earlier, India's refusal to join the One Belt and One Road Initiative (OBOR) in May this year was worrisome for China.
The Malabar is hence being seen as an opportunity for India to take a tough stance in the region.
Chinese media was also quoted as saying that the exercise may be a security concern for China as the Indian Ocean Region is considered economically important for Asia's largest economy.
However, ahead of the Malabar exercises this year, Chinese foreign ministry spokesman Geng Shuang said that while China had no objection to normal cooperation between countries, "We hope that this kind of relationship and cooperation will not be directed against third country and that it will be conducive to the regional peace and security."