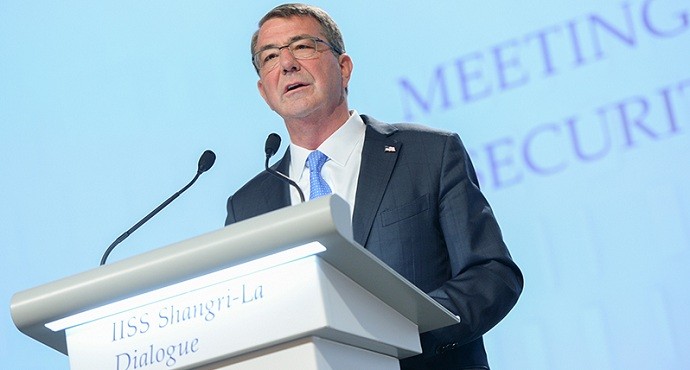 Tensions over the South China Sea dominated discussions at the three-day Asia security summit in Singapore, attended by top defense officials
SINGAPORE — US Defense Secretary Ash Carter proposed a "security network" of Asia-Pacific to accelerate and deepen defense cooperation in the region.
He also warned that China risks further alienating regional neighbours and building a "Great Wall of self-isolation" as China "has taken some expansive and unprecedented actions (in the South China Sea), that have generated concerns about China's strategic intentions."
Speaking at a Shangri-La Dialogue 2016 summit Singapore on Saturday, he urged China to join a "principled security network" for Asia, saying that the United States would remain the "most powerful military and main underwriter of security in the region for decades to come."
The three-day Asian security summit kicked off in Singapore on Friday, focused on tensions in the South China Sea, North Korea's continued nuclear and missile provocations and the threat of terrorism to the region.
Defence ministers and military chiefs and officials from around 30 countries are attending the Shangri-La Dialogue, Asia's largest annual security forum in Singapore organized byInternational Institute for Strategic Studies (IISS).
Apart from Carter, Chinese Admiral Sun Jianguo, French Defence Minister Jean-Yves Le Drian and his Indian counterpart Manohar Parrikar and New Zealand Defence Minister Gerry Brownlee are attending the summit.
China says Carter's remarks reflected a "Cold War mentality"
A senior Chinese naval commander, in his powerful speech explained Beijing's stance on territorial disputes in the South China Sea, criticizing what he condemned as U.S. interference in Asian security issues.
Adm. Sun Jianguo, a deputy chief of the Chinese military's Joint Staff Department, reject U.S. allegations that Beijing risked isolating itself with its expansive maritime claims in the South China Sea.
"We were not isolated in the past, we are not isolated now, and we will not be isolated in the future," Adm. Sun said at the annual Singapore gathering of Asian and Western defense officials.
Instead, he criticized other countries for retaining "a Cold War mentality" when dealing with China, saying they may only "end up isolating themselves."
Adm. Sun, however, said the debate over "the South China Sea issue has become overheated because of the provocations of certain countries for their own selfish interests."
Thai PM says international law South China Sea tensions
Thailand's Prime Minister Prayuth Chan-Ocha called for upholding international law on the South China Sea dispute. "I believe that if we look at everything from the standout of conflict we will never be able to see a way out," he said.
In his speech. Mr. Prayuth discussed regional and global security issues and their impacts on the region, including threats to ASEAN such as extremism, illegal, unreported and unregulated fishing, and irregular migration.
He assured that "Thailand will return to democracy in accordance with the road map and that Thailand upholds the democratic process" while acknowledging that  Thailand had been divided by conflict stemming from a political culture that produced democracy in form but not function.
What is the Shangri-La Dialogue and why is it important?
Since its establishment in 2002, the security summit, organized by the London-based think tank International Institute of Strategic Studies (IISS), has become a key platform to explore resolutions for security issues and promote security cooperation in the Asia-Pacific region.
It gets its name from the location of the meeting, the Shangri-La hotel in Singapore.
The dialogue gathers military representatives from some of the world's most powerful countries to discuss pressing and significant defence and security issues.
The meeting is a chance for defence ministers, military chiefs and high-ranking defence officials to hold bilateral meetings on its sidelines.