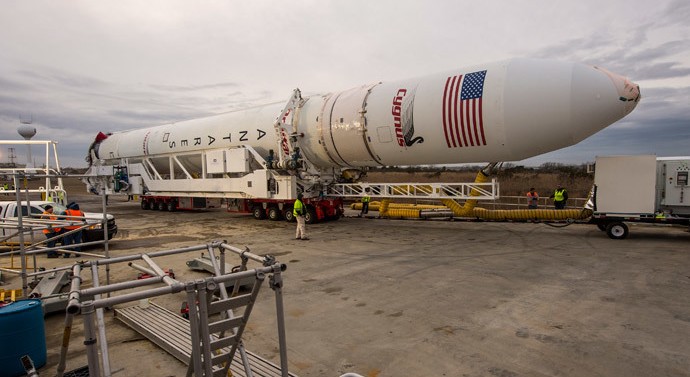 Russian rocket maker Energomash has signed a billion-dollar contract to deliver 60 RD-181 rocket engines to a US space firm, officials say.
Under Friday's contract, Energomash, one of the world's leading rocket engine manufacturers, will deliver the engines to American space technology manufacturer Orbital Sciences.
According to Vladimir Solntsev, the executive director of Energomash, the Russian government has already issued all the permits required for the deal.
"We are committed to deliver 60 engines. Three options have been signed, each for 20 engines," Solntsev said, adding, "There is a firm contract for 20 engines, which we have started fulfilling, as we are due to supply the first two engines next June."
The contract includes not only the costs of the engine production but also a whole range of services, including flight training, installing the rocket engine, and conducting tests.
The engines will be used for the first stage of the Antares rockets, manufactured by Orbital Sciences.
The US relies on Russian-made RD-180 and NK-33 engines to launch military and civilian satellites into space.
Solntsev also explained that the rockets with the engine cannot be used for launching military spacecraft, saying, "The contract envisages restrictions for the use of RD-181 engines in military programs."
Experts estimate that the US would have to spend about $3 billion to develop its own engine for Antares. The process could also take up to 10 years, without guarantee of success.
Sources say Energomash plans to cooperate with the US company for 15 to 20 years. Both sides say tit-for-tat sanctions between Moscow and Washington over the Ukraine crisis will not have an effect on the deal.
The decision to buy the RD-181 by the US company comes following an engine failure and subsequent explosion during the Antares launch in October last year. The company has halted all launches since then and has been struggling to find a replacement. Orbital's vice president for space launch strategic development, Mark Pieczynski, told Aviation Week in December that the reliability of the RD-181 and similar engines made it the best choice.
JR/AS/MHB