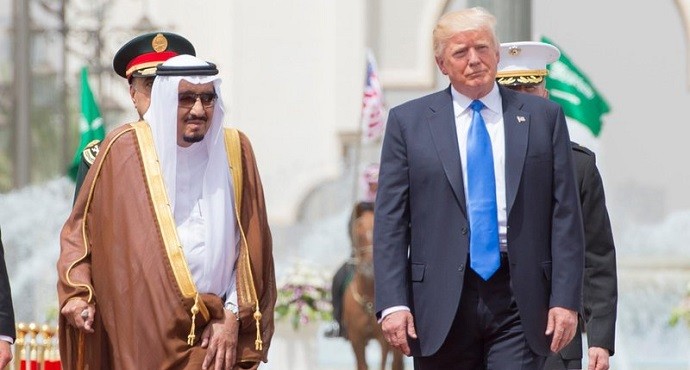 U.S., Saudi firms sign tens of billions of dollars of deals as Trump visits
United States and Saudi Arabia have signed arms agreements worth $110 billion effective immediately — plus another $350 billion over the next 10 years — during a visit to Saudi Arabia by US President Donald Trump that both countries called "historic."
The deal includes tanks and helicopters for border security, ships for coastal security, intelligence-gathering aircraft, a missile-defense radar system and cybersecurity tools, according to the State Department. It also includes energy technology, health-care, jobs, and a $40 billion joint infrastructure investment fund.
U.S. Secretary of State Rex Tillerson said during a press conference in Riyadh on May 20 that the deals — including a $110 billion defense and military deal — totaled more than $350 billion, while Saudi Foreign Minister Adel al-Jubeir said the deals were worth more than $380 billion.
Jubeir called Trump's visit the start of a "turning point" between the United States and the Arab and Islamic world.
Tillerson praised the pact as a "historic moment in U.S.-Saudi relations" and said the pact sends a "very strong message to our common enemies" on trying to disrupt "violent extremist messaging" and "financing of terrorism."
Trump's son-in-law and adviser Jared Kushner personally called the president of Lockheed Martin, a major supplier of U.S. military equipment, in order to negotiate a lower price for the radar system, according to the New York Times.
A White House official added that in addition to demonstrating the U.S. commitment to Saudi Arabia "and our Gulf partners," it also expands "opportunities for American companies in the region, and supporting tens of thousands of new jobs in the U.S. defense industrial base."
Saudi Arabia signs deals with Lockheed Martin, GE and others
It is all part of Vision 2030, Deputy Crown Prince Mohammed bin Salman's plan for transforming the Saudi economy, diversifying away from petroleum and providing work for the kingdom's restless unemployed. The 2030 plan aims to build up the share of non-oil exports from the current level of 16 percent to 50 percent.
Lockheed Martin said that Saudi Arabia "has expressed its intent to procure more than $28 billion worth of Lockheed Martin integrated air and missile defense, combat ship, tactical aircraft and rotary wing technologies and programs." Lockheed Martin chief executive Marillyn Hewson said she hoped to "strengthen the cause of peace in the region."
General Electric said it signed memorandums of understanding for the sale of $7 billion of GE technology and for the training of Saudi citizens in cloud-based data skills and expertise in the health-care industry. GE would also help improve efficiency in manufacturing, the state mining company and Saudi Aramco.
Saudi Aramco announced tentative agreements with several firms, each designed to create hundreds or thousands of local jobs. The state oil company said it had signed MOUs with oil service giants Schlumberger, Halliburton, Weatherford and Baker Hughes to localize oil field goods and services and create a total of 4,850 jobs in the kingdom.