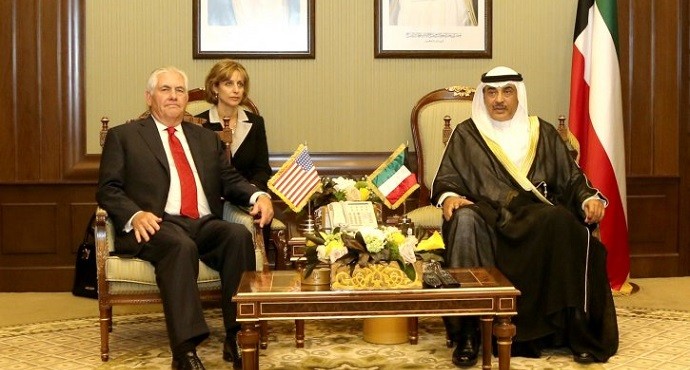 Qatar agrees to curb terrorism financing under deal with U.S.
The United States and Qatar signed an agreement on combatting terrorism and its financing during a visit to Doha by US Secretary of State Rex Tillerson.
"Qatar and the United States have signed a memorandum of understanding between the two counties outlining future efforts Qatar can take to fortify its fight against terrorism and actively address terrorism funding issues," Tillerson's senior adviser R.C. Hammond told reporters.
"This is a hopeful step forward," Hammond added.
The deal was signed on the second leg of US Secretary of State Rex Tillerson's visit to the region in a bid to break the deadlock between Qatar and a Saudi-led block of four nations.
"Together the United States and Qatar will do more to track down funding sources, will do more to collaborate and share information, and will do more to keep the region and our homeland safe," Tillerson told reporters in the Qatari capital of Doha on Tuesday.
Secretary Tillerson: Together the US and #Qatar will do more to collaborate, share information, and keep the region and our homeland safe. pic.twitter.com/8bbl90YoD3

— Department of State (@StateDept) July 11, 2017
Secretary of State Rex Tillerson on Tuesday lauded Qatar as the first nation to heed President Donald Trump's call to cut off terror financing, a remarkable comment that undermine efforts by Saudi Arabia and its allies to isolate the tiny Gulf monarchy.
Tillerson's statement, which came during a trip to the Gulf region to help seek a resolution the diplomatic crisis, appears to undercut the Saudi Arabia-led bloc's reasons for cutting ties with Qatar, as well as Trump's own criticisms of Doha.
Last month, Saudi Arabia, the United Arab Emirates, Bahrain and Egypt imposed a de facto blockade against Qatar over allegations of funding terrorism and its relations with Iran.
Qatari position in Gulf row 'reasonable', Rex Tillerson
Describing himself as a "friend to the region," Tillerson expressed hope for progress in ending the standoff in brief remarks following a meeting with 37-year-old Emir Tamim bin Hamad Al Thani in Doha.
Qatar has been "reasonable" in its positions on a growing Gulf Region dispute, US Secretary of State Rex Tillerson has claimed.
"I think Qatar has been quite clear in its positions, and I think those have been very reasonable," Tillerson said at a meeting in the Qatari capitol, adding that he is "hopeful we can make some progress to begin to bring this to a point of resolution".