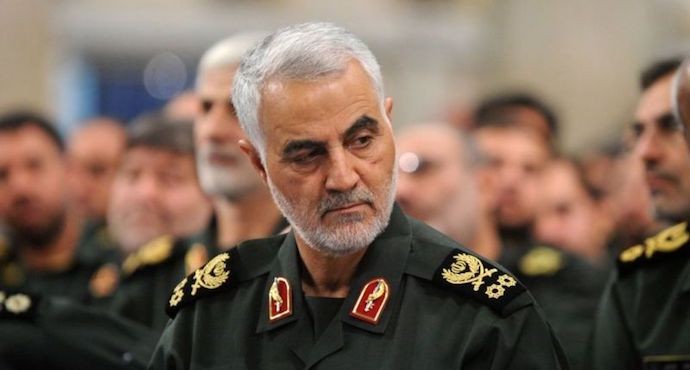 U.S. kills Iran's most powerful general in Baghdad airstrike pushing the Middle East into chaos
Iran's most powerful military commander, General Qasem Soleimani, has been killed in a U.S. airstrike in Iraq.
The Pentagon confirmed that U.S. forces have taken "decisive defensive action by killing Soleimani "at the direction of the president". The White House claimed in a statement that "General Soleimani was actively developing plans to attack American diplomats and service members in Iraq and throughout the region."
"This strike was aimed at deterring future Iranian attack plans. The United States will continue to take all necessary action to protect our people and our interests wherever they are around the world" the statement added.
General Soleimani was actively developing plans to attack American diplomats and service members in Iraq and throughout the region. https://t.co/Me5DMvMgSp

— The White House (@WhiteHouse) January 3, 2020
Iranian Leader Ayatollah Ali Khamenei announced three-day mourning period and vowed a "vigorous revenge is waiting for the criminals."
Iranian Foreign Minister Mohammad Javad Zarif has condemned the killing of General Qassem Soleimani, the head of Iran's elite Revolutionary Guard Corps (IRGC) Quds Force and called it an "act of international terrorism." In his tweet, Zarif said: "The US bears responsibility for all consequences of its rogue adventurism."
The assassination could lead to escalation in the region
The deadly airstrike is likely to escalate tensions between the U.S. and Iran but the real threat is to the regional countries. Analysts agreed that Soleimani was considered an irreplaceable figure for the Iranian regime and his killing of such a revered figure would have implications on the whole region.
Iraqi Prime Minister Adel Abdul Mahdi said the attack was an "assassination" and condemned it as an act of aggression.
US Senator Chris Murphy has warned that Soleimani's killing could spark a "potential massive regional war."
"One reason we don't generally [assassinate] foreign political officials is the belief that such action will get more, not less, Americans killed," Murphy said on Twitter. "That should be our real, pressing and grave worry tonight."
Who was Soleimani?
Maj. Gen. Qassem Soleimani, 62, commanded the Quds Force, an elite paramilitary army that reports directly to the Iranian Supreme Leader.
Soleimani, known for his quiet demeanor, radiated such charisma and intelligence that earned him the respect of his adversaries.
Born in a poor mountain village in the east of Iran, he began working at the age of 13 to help his father pay back a government loan.
Soleimani's career began soon after Iran's 1979 revolution. He stood out for his skills and brilliance as a Revolutionary Guard soldier during the Iran-Iraq War, and was named head of the Quds Force in 1998.
He has been described as the architect of Iran's strategy to exert its influence from Tehran to the Mediterranean Sea. Soleimani is responsible for the deaths of hundreds of U.S. service members, according to administration officials.
In 2008, he wrote in a letter to American commander David Petraeus became famous: "General Petraeus, you should know that I, Qassem Suleimani, control the policy for Iran with respect to Iraq, Lebanon, Gaza, and Afghanistan. The ambassador in Baghdad is a Quds force member. The individual who's going to replace him is a Quds force member." Petraeus, in a 2008 letter to the then-US defence secretary, described Suleimani as "a truly evil figure".