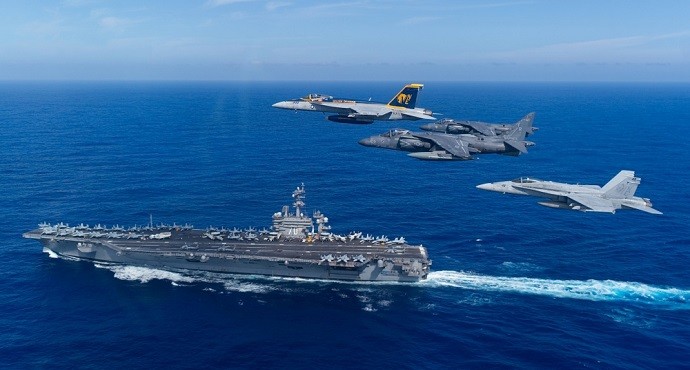 US aircraft carrier to make historic port call in Vietnam this year
A United States Navy aircraft carrier is expected to make a port visit to Vietnam soon, U.S. Defense Secretary Jim Mattis said.
Mattis met in Hanoi with Vietnamese Communist Party General Secretary Nguyen Phu Trong. "Thank you for the increasing partnership with our aircraft carrier coming into Da Nang here in March" he said.
The proposed visit is set for March at the central port of Danang, Vietnam's defence ministry said in a statement.
The visit will be the first by a U.S. aircraft carrier to Vietnam since the end of the Vietnam War in 1975.
The intended visit to the port of Danang comes amid heightened tensions over China's territorial claims in the South China Sea, including to islands claimed by Vietnam.
During his visit, Mattis and his counterpart, Ngo Xuan Lich, discussed the planned carrier visit during a closed-door meeting, Pentagon spokesman Navy Capt. Jeff Davis said. Davis said the Vietnamese are awaiting final approval by more senior government authorities, but Mattis appeared to indicate it was a done deal.
Mattis also thanked him for Vietnam's support for toughening United Nations Security Council sanctions against North Korea.
Vietnam Foreign Ministry Spokesperson Le Thi Thu Hang told a press briefing that the visit will reflect Vietnam's "independent and diverse" foreign policies, and how it develops ties with partners based on peace and stability for the region and the world.