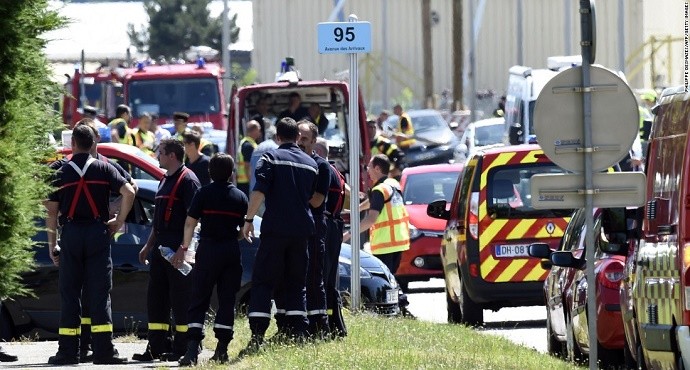 World rocked by beheading, bombings and tourist shootings in 4 countries
Terrorists left more than 90 people dead in four countries after attacks at a French factory, a Tunisian beach, a mosque in Kuwait and a town in Somalia.
At least 28 were gunned down in Tunisia while a suicide bomber at a Shiite mosque in Kuwait left 25 worshippers dead. As French police pieced together what happened in the incident at a gas plant near Lyon where one man was decapitated, al-Shabaab militants killed 30 peacekeepers in Somalia.
There's no suggestion the attacks were coordinated, yet they all bore similar hallmarks. The attacks come a year after Islamic State officially declared its caliphate in Syria and Iraq and has renewed its push to take more territory. The deaths underscore the difficulty security services face in tackling what's become a franchise as the extremist group lured thousands of fighters from the Middle East and Europe.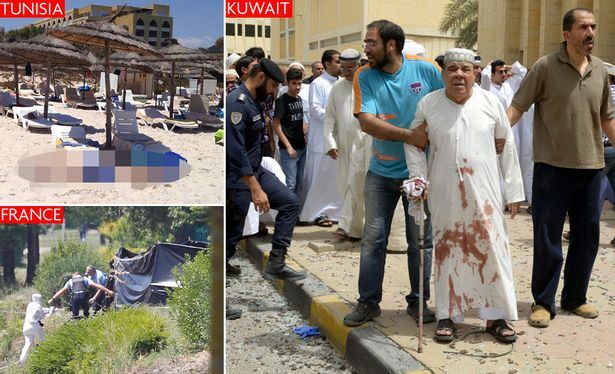 Tunisia attack
In Tunisia, gunmen opened fire on a beach in the Mediterranean tourist town of Sousse. At least 37 people, mostly foreigners, have been killed and 36 injured in an attack on a beach in the Tunisian resort town of Sousse. Among the victims were Germans, Belgians and British visitors, the state news agency reported. The attack followed the murder of a group of foreign tourists at a museum in the north African country in March.
Kuwait bombing
In Kuwait, a bomb ripped through a Shiite mosque during Friday prayers, echoing recent incidents in Saudi Arabia. At least 25 people died when a suicide bomber struck Friday prayers at a Shia mosque. A Kuwaiti lawmaker told media that there were more than 2,000 people in the mosque when the attacker, reportedly a young man in his 20s, struck the religious ceremony. An Islamic State affiliate that also claimed responsibility for two attacks on Shia mosques in Saudi Arabia has said it carried out the attack in Kuwait.
Somalia killing
In Somalia, a suicide truck bomber hit an African Union military base, leaving at least 30 dead. The al-Shabab militant group has claimed responsibility for the attack on the base in Leego, a remote outpost in the war against the terror organization. On Wednesday, a convoy transporting the United Arab Emirates ambassador to Somalia was struck by a suicide attack. The ambassador survived.
France attack
In France, an attacker stormed an American-owned chemical plant in Lyon while brandishing a flag reported to feature Arabic writing. The attacker, identified as Yassine Salhi, who had at one point had been under surveillance by French police, decapitated one person and tried — but failed — to blow up the plant using gas canisters. There are unconfirmed reports that Salhi may have had an accomplice.
"This attack was a vehicle, driven by a person, maybe accompanied by another, who rammed at great speed into this factory," French President Francois Hollande said. "There is no doubt about the intention, which was to cause an explosion."