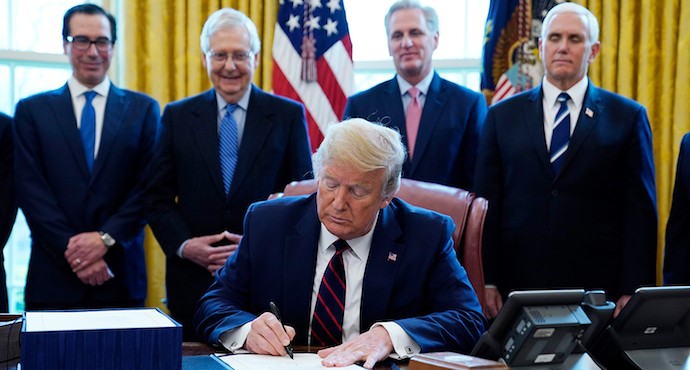 Trump signs $2-trillion coronavirus relief package
News, US
March 27, 2020
No Comments
Trump signed a massive $2.2 trillion rescue bill to address the coronavirus pandemic
U.S. President Donald Trump signed an unprecedented $2.2 trillion economic rescue package on Friday to help people and businesses cope with the economic downturn and rush resources to overburdened health care providers amid the coronavirus pandemic.
"Our nation faces an economic and health emergency of historic proportions," House Speaker Nancy Pelosi said before the vote. "We do know that we must do more."
The bill is the largest rescue package in the history of the United States. "This will deliver urgently needed relief," Trump said as he signed the bill in the Oval Office, flanked only by Republican lawmakers. He thanked members of both parties for putting Americans "first."
"This is a pandemic that we haven't even seen for over 100 years in our country. It's really such a tragedy. So we had to take important action that puts families first and workers first and that's what we did," House Speaker Nancy Pelosi said earlier this week.
President Trump also used his power under the 1950 Defense Production Act to issue the order to General Motors to produce ventilators for hospitals strained by COVID-19 patients.
Details of the rescue package:
$500 billion – Large businesses, industries

$300 billion – Direct cash payments for every American citizen earning less than $99,000 per year
$350 billion – For small businesses
$250 billion – Expanded unemployment benefits.
$100 billion – Hospitals, doctors, nurses.
$45 billion – Disaster Relief Fund, supporting our state, local, and tribal leaders.
$27 billion – Development of vaccines, therapies, and other public health response efforts, including $16 billion to build up the Strategic National Stockpile with critical stockpiles.