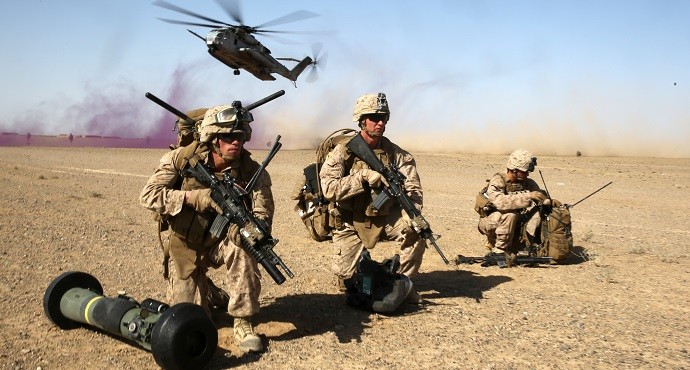 Six American soldiers killed in Afghanistan suicide bombing
News, US
December 21, 2015
No Comments
The Taliban claims responsibility for the bombing near Bagram Air Field
KABUL, (Afghanistan) – Six U.S. troops were killed in a suicide attack near Bagram Airfield, Afghanistan, according to reports. Two others were wounded along with an Afghan, according to a report from The Associated Press.
The Taliban claimed responsibility for the suicide bombing near Bagram, the largest US military base in Afghanistan, during a joint patrol of NATO and Afghan forces.
"Six (NATO) service members died as a result of a vehicle-borne improvised explosive device attack," the US-led coalition said in a statement, adding that three others were wounded.
The coalition didn't disclose the nationality of the victims, but Afghan and Western officials said they were all American.
"We're deeply saddened by this loss," said U.S. Army Brig. Gen. Wilson A. Shoffner, the top military spokesman of American and allied forces in Afghanistan. "Our heartfelt sympathies go out to the families and friends of those affected in this tragic incident, especially during this holiday season."
Mohammad Asim Asim, governor of Parwan province, where Bagram is located, said that a suicide bomber rammed an explosives-laden motorcycle into the combined NATO-Afghan foot patrol as it moved through a village close to the base, which is 28 miles north of Kabul. He also said that two Afghan police officers were wounded in the attack.
U.S. forces make up the bulk of troops in the coalition, which is composed mainly of member countries of the North Atlantic Treaty Organization. There are about 9,800 American troops in Afghanistan, both to assist and train Afghan forces and to support counterterrorism operations, following the return of most of the US troops from Afghanistan after 13 years.
Afghan security forces have suffered record casualties since the U.S. drew down its troops, with at least 7,200 soldiers and police killed by mid-November of this year.
The bombing marks one of the deadliest attacks on foreign troops in Afghanistan this year and coincides with a fierce militant offensive to capture the strategic district of Sangin in Helmand province.
"The Taliban have captured the police headquarters, the governor's office as well as the intelligence agency building in Sangin," deputy Helmand governor Mohammad Jan Rasoolyar told AFP.
"Fighting is escalating in the district," he said, claiming the number of soldiers killed in clashes is "unbelievably high".
Rasoolyar's comments come a day after he posted a desperate plea on Facebook to President Ashraf Ghani, warning the entire province was at risk of falling to the Taliban.