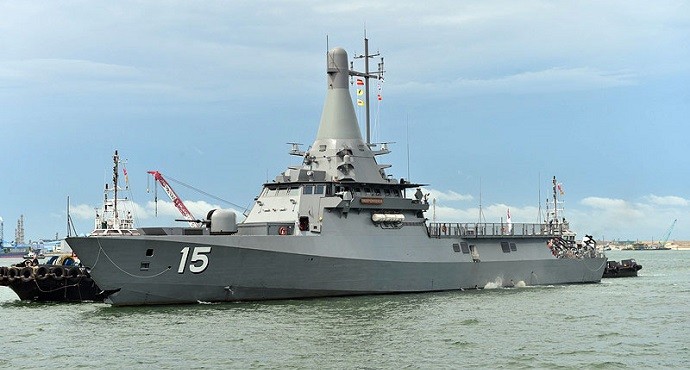 Singapore has launched its fourth Littoral Mission Vessel
Singapore Technologies Marine Ltd has launched the fourth Littoral Mission Vessel (LMV) 'Justice' designed and built for the Republic of Singapore Navy (RSN), during an official ceremony at Benoi Yard.
Senior Minister for State for Defence Dr. Mohamad Maliki Bin Osman officiated the launch of Singapore Navy's fourth Littoral Mission Vessel at the Singapore Technologies Marine (ST Marine)'s Benoi shipyard.
Dr Maliki said the LMVs aptly illustrate how the RSN is "looking ahead to the next 50 years to make sure it stays relevant and ready for the challenges ahead." He added, "the RSN has designed the LMV to conduct a wider range of operations in a more complex environment. It will give the RSN greater mission flexibility and sustainability."
The ship, which will be the future RSS Justice with pennant number 18, was launched on 18 March. The 80 m platform is part of a contract for eight LMVs signed between ST Marine and the Singapore Ministry of Defence in 2013.
"Today marks yet another significant milestone for the team, the launch of the fourth Littoral Mission Vessel – Justice. We all look forward to the commissioning of the first LMV Independence in May this year," said Ng Sing Chan, President for ST Marine.
The LMVs are faster, versatile, and equipped with sharper capabilities to further strengthen the RSN's effectiveness in seaward defence, according to a statement by MINDEF. The LMVs can be configured with mission modules to take on a wide spectrum of operations, enabling the crew to deliver calibrated responses using lethal and non-lethal options to deal with a range of maritime threats.
ST Marine was awarded the contract by MINDEF in 2013 to design and build eight LMVs for the RSN. The fleet of the eight LMVs will replace the Fearless 55 Patrol Vessels designed and built by ST Marine in the 1990s.
The first two, named, LMV Independence and LMV Sovereignty were delivered in 2016. The third, LMV Unity and the fourth, LMV Justice will be delivered in the first and second half 2017 respectively.
The LMV programme is expected to be completed in 2020.