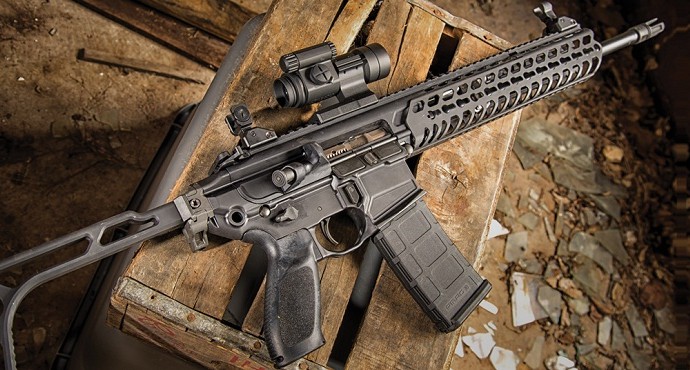 Sig Sauer MCX – the weapon that caused 100+ causalities in Orlando massacre
News, US
June 15, 2016
1 Comment
Weapon used by Orlando mass shooter was $1,866 rifle, developed for US Army's special operations, with "an innovative weapon system built around a battle-proven core"
By Sana Jamal
On the early morning of June 12, a gunman attacked a gay nightclub in Orlando, FL, killing 49 people and wounding 53 others before he was killed by law enforcement.
During the assault, Mateen, 29, was armed with a rifle and a Glock 17 handgun. But most significant weapon used by Orlando shooter is a Sig Sauer MCX rifle, according to law enforcement.
The assault weapon used in Orlando massacre was developed by Sig Sauer – an NRA corporate donor (which has contributed between $25,000 and $49,999 to the gun organization) and also the sponsor of the NRA news series "Defending Our America."
Sig Sauer describes MCX rifle as "an innovative weapon system built around a battle-proven core."
Originally designed for U.S. Special Operations forces, the MCX was "engineered from the ground up to be short, light and silenced," and it accepts "a broad array of accessories, enabling you to build a complete weapon system for any scenario or environment," Sig Sauer's website says.
The MCX is known in military circles as the "Black Mamba" and was developed at the request of the U.S. special forces, according to the book Guns of Special Forces 2001-2015.
Here's what you need to know about this lethal weapon that inflicted 100+ causalities in Orlando, Florida.
Specification of the Sig Sauer MCX
It has a military-spec trigger and a magazine capacity of 30 rounds. The rifle was designed to meet these specific goals: "a firearm that's as quiet as an MP5, as deadly as an AK-47, and more modular than anything ever designed" elucidates.
This is how MCX is billed at a gun website:
In a sea of the ordinary, the Sig Sauer MCX stands out as a truly extraordinary rifle platform. It was designed from the ground up to be a completely modular weapons system– allowing users to transition to multiple calibers and different, mission-specific accessories. It also takes short-stroke gas piston technology to the next level and affords shooters unprecedented reliability and accuracy.
The weapon is sold in a semi-automatic version to civilians and also marketed to special forces with a selective-fire version.
A review of the MCX on The Truth About Guns explains what sets apart MCX from other related rifles: "When it comes to getting shots on multiple targets quickly — especially when shooting with a silencer attached — an MCX-wielding rifleman will have a distinct advantage."
SIG Sauer's MCX that combines similar modularity with a purpose-built, short-barreled, suppressed, lightweight rifle-caliber system.
SIG SAUER MCX Rifle specifications:
Type: Gas-piston, semi-automatic
Caliber: 5.56 NATO
Action: Semi-auto gas piston
Barrel: 16″
Weight: 6 pounds
MSRP: $1,866
Manufacturer: SIG Sauer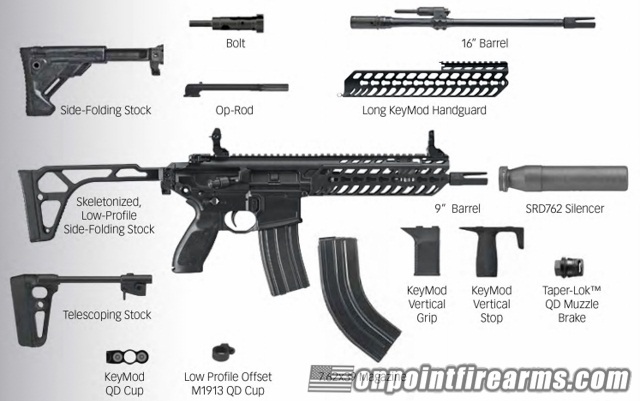 Orlando tragedy and America's gun violence issue
The Orlando tragedy — United States' worst mass shooting ever and its second-worst terrorist attack after September 11, 2001— has once again put the spotlight on the accessibility of guns and failed legal efforts to ban it.
Mass shootings are also a stark reminder that guns in America are widely available and affordable, being sold for as low as $250 online, with an average price of about $1,000 and $2,000.
Aurora, Sandy Hook, San Bernardino and now Orlando – every mass shooting has been followed by the debate whether rifles should be sold to civilians since most killers get their guns legally, just like Omar Mateen who purchased the guns from a local shop after passing a full background check.
America witnessed 141 mass shootings in 2016 so far
In 2016 alone, there have been 141 mass shootings in 167 days (till 15 June 2016) according to Gun Violence Archive.
Orlando massacre was 139th mass shooting in United States in 2016. The non-profit Gun Violence Archive says guns have been used to kill 6,092 people in the U.S. so far in 2016.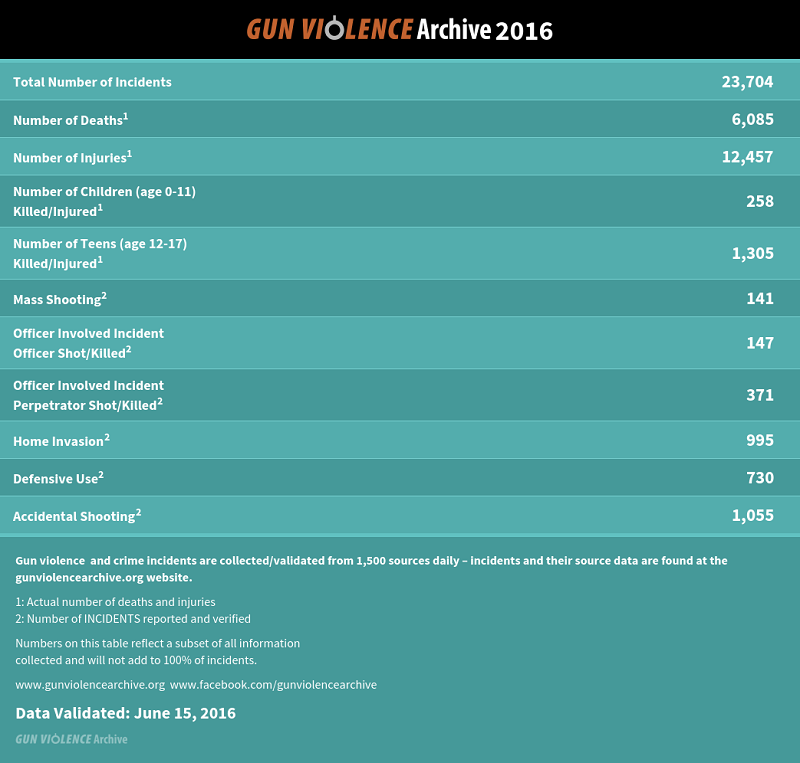 Florida has had more mass shootings in 2016 than any other state
There have been 15 mass shootings so far in Florida, which is more than any other state. Four of those shootings occurred in Orlando, including the shooting at the Pulse nightclub on Sunday, GVA's database shows.
Florida state is generally considered to be a state with minimal restrictions on firearms purchases. It received an "F"-grade and ranked 28th in the most recent annual state scorecard published in 2015 by the Law Center. Moreover, Florida does not require background checks on private gun sales and doesn't regulate assault weapons or large capacity ammunition magazines.
Gun sales on the rise in the United States
Gun sales in the U.S. have intensely increased in recent years. According to the Bureau of Alcohol, Tobacco, Firearms and Explosives, U.S. gun-makers produced nearly 11 million guns in 2013, the year after the Sandy Hook elementary school massacre. That's twice as many as they made in 2010.
There are now more guns than people in the United States, as per the 2012 Report by Congressional Research Service, the U.S. has at least 310 million guns available to civilians in 2009 for a rate of 1.01 guns per 100 people.