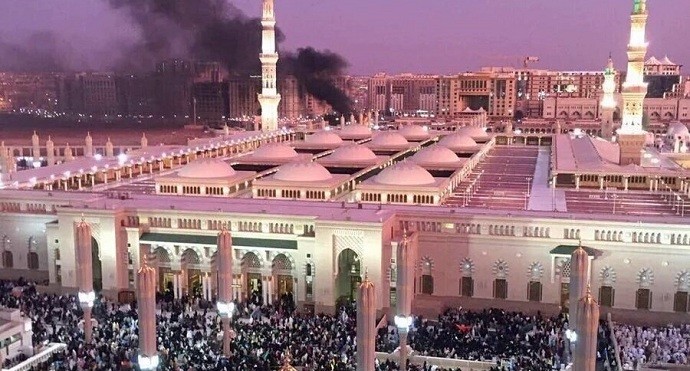 Attackers kill four at Medina mosque housing Prophet Muhammad's tomb and also strike outside the US consulate in Jeddah and in Shia-majority Qatif
Four security officers have been killed and five others wounded in a suicide attack outside one of Islam's holiest sites, Saudi Arabia's interior ministry said.
The bombing at the Prophet's Mosque in the city of Medina was the third attack on Monday, following blasts in the cities of Jeddah and Qatif.
"Four security guards were martyred and five others wounded as a result of their opposition to the suicide attacker who detonated explosives near them as he was on his way to the mosque," the ministry said on Twitter.
The blast struck moments before sunset prayers when people were breaking their fast inside the mosque. The mosque, which is also known as Al-Masjid an-Nabawi, is visited by pilgrims from around the world during the final days of the fasting month of Ramadan.
The blasts in Saudi Arabia followed a bloody week in which terrorist attacks caused mass casualties in biggest cities of three Muslim countries: Turkey, Bangladesh and Iraq.
Soon after the blast in Medina, a video circulated on social media showed a car burning and at least two security officers were seen lying on the open ground and two others lay crumpled near a burning car.
Security forces have cordoned off the Prophet's Mosque and worshipers were not allowed to get in or out.
The blast followed two others in Qatif, a city that is home to many of the kingdom's Shia Muslims. The blast appeared to target a Shia mosque. The attacker was killed but no other casualties were reported.
Earlier during the day, a suicide bomber was killed and two people were wounded in a blast near the U.S. consulate in Saudi Arabia's city of Jeddah on Monday, state TV said, the first bombing in years to attempt to target foreigners in the kingdom.
The incidents occurred shortly before the beginning of the Eid holiday, which follows the end of the holy month of Ramadan.
It was the first bombing in years to attempt to target foreigners in the kingdom. There was no immediate claim of responsibility for the Jeddah attack.
ISIS has carried out a series of bombing and shooting attacks in Saudi Arabia since mid-2014 that have killed scores of people, mostly members of the Shi'ite Muslim minority and security services.