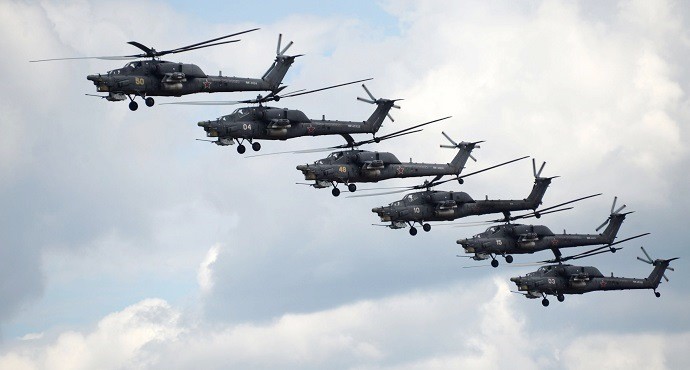 Russia to reinforce air strength with induction of hi-tech aircraft
Europe, News
July 23, 2017
No Comments
The upgraded Mi-28NM Night Hunter helicopter to be delivered to Russian Airforce by 2018
The induction of new hi-tech and state-of-the-art aircraft will strengthen Russia's air strength.
The delivery of the upgraded Mi-28NM Night Hunter helicopter with dual controls to Russia's Aerospace Forces will begin in 2018.
According to Russia's Aerospace Forces Commander Col. Gen. Viktor Bondarev, Mi-28NM is the most updated aircraft. "Russian Aerospace Forces will receive it by 2018."
Bondarev added that all combatant units of the military aviation would receive the Mi-28NM helicopter.
The Mi-28NM is a modernized version of the Mi-28N Night Hunter attack helicopter. Work on the new modification first began in 2009.
The Mi-28NM is equipped with a new locator which offers all-around visibility, and new control system which makes it a high precision weapon.
Russian Airforce to receive over 100 new Aircraft in 2018
Meanwhile, it was also reported that Russian Aerospace Forces plan to receive more than a hundred new aircraft and helicopters by 2018.
More than a hundred latest version aircraft would be joining the Russian Aerospace Forces, according to Russia's Aerospace Forces Commander Col. Gen. Viktor Bondarev.
"Everybody understands perfectly well that the world is on the way to developing the aerospace component, where there are new technologies, developments, progress. Ultimately, this also affects the development of the national economy and industry," the Russian commander concluded.
The disclosure of overhauling the Russian air force was made by Gen. Viktor Bondarev at International Aviation and Space Salon MAKS 2017 in the city of Zhukovsky in the Moscow region during July 18-23.
Recently, Russian forces in Syria have made effective use of Ka-52 Alligator scout-attack helicopter as well as an Mi-28 assault chopper.
Russia has begun incorporating Syrian campaign experience into its military helicopters.
According to an another report by Sputnik published on June 7, 2017, Russian helicopter manufacturers have started to develop military helicopters taking into account the combat experience gained in Syria, Russian Deputy Defense Minister Yuri Borisov said.
"The Defense Ministry held several meetings with helicopter producers in order to increase the efficiency of attack helicopters above all. Such measures are planned, the plans are being implemented, and I believe that in the near future helicopters will look a little different," Borisov said.