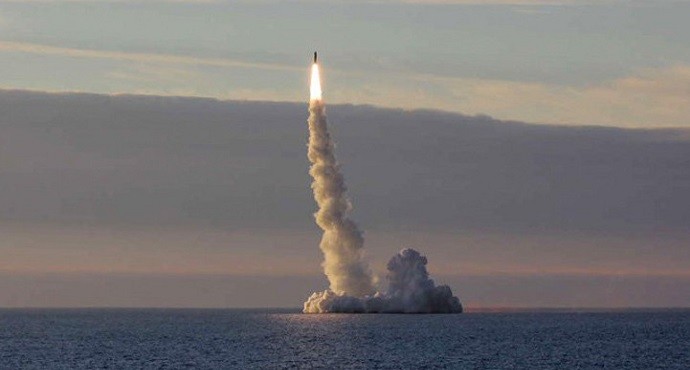 Russian submarine successfully test-fires new intercontinental ballistic missile
The Russian military says it has successfully test-fired a submarine-launched intercontinental ballistic missile.
The 9,300-kilometer (5,770 miles) range Bulava missile was launched from a submerged position in the Barents Sea. The defense ministry said the missile's mock warheads reached their designated targets on the opposite side of Russia — the Kura shooting range on the far eastern Kamchatka Peninsula,  according to Russia's TASS news agency.
"The strategic Borey-class nuclear submarine, Yuri Dolgoruky, has successfully fired the Bulava intercontinental ballistic missile (ICBM) from a designated area in the Barents Sea to the Kura Missile Test Range in Kamchatka," the Russian Ministry of Defense said in a statement.
"According to the confirmed data from the registering equipment, the intercontinental ballistic missile warheads performed a full cycle of the flight and successfully hit the designated targets at the practice range," the statement added.
The Bulava, which has been commissioned by the Russian Navy after a long cycle of development, carries six nuclear warheads.
The Yuri Dolgoruky is the first in a series of Borei-class submarines carrying the Bulava. Russia now has three such submarines, and five more are under construction to gradually replace some of the older Soviet-built ones.
Yuri Dolgoruky is one of Russia's most significant vessels in its north, a region that Moscow has prioritized for military development in its current reinforcement strategy.
The Russian Navy's Northern Fleet operates in the region, and the government has vowed to grow its presence considerably in the high north of the country by 2030.