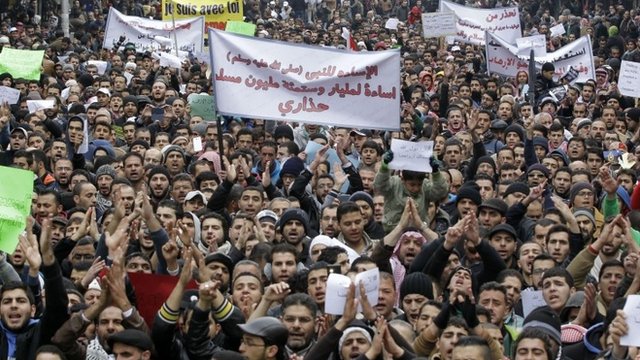 Worldwide protests continue against the French magazine Charlie Hebdo's publication of a blasphemous cartoon of Islam's Prophet Muhammad.
In Pakistan, thousands of protesters gathered in the country's port city of Karachi on Wednesday, chanting slogans against the French magazine.
Reports say Pakistani traders and businessmen also gathered in the city of Lahore, where they held placards with the holy Prophet's name on them.
Pakistanis have been holding protests against the French weekly over the past days.
Meanwhile, Afghan protesters gathered in front of the French embassy in Afghanistan's capital, Kabul on Thursday.
The demonstrators chanted slogans and carried banners, calling France the enemy of humanity.
The protesters said both the deadly January 7 attack on Charlie Hebdo offices in Paris and the cartoon printed by the magazine were anti-Islamic conspiracies.
They demanded that those behind the insulting publication to be brought to justice.
There have also been protests in Jordan against the French satirical magazine. There were some clashes between security forces and the demonstrators.
Hundreds of thousands of people in the Russian Muslim region of Chechnya gathered in the regional capital Grozny.
Chechnya's Interior Ministry said more than a million people attended the demonstration. The Russian Interior Ministry had estimated the number of attendees at more than 800,000.
Similar protests have been held in countries across the world, including Azerbaijan, France, the United State and Israel, to condemn the magazine's move.
On January 7, two gunmen attacked Charlie Hebdo's Paris offices, killing 12 people. The al-Qaeda branch in Yemen claimed responsibility for the attack.
The French magazine has repeatedly provoked Muslim anger by publishing cartoons of the Prophet, defending its actions under the guise of free speech.
The magazine published its first cartoon depicting Prophet Mohammed four years ago. Following the 2011 publication, the magazine's offices were targeted in a firebomb attack.
SZH/HJL/KA