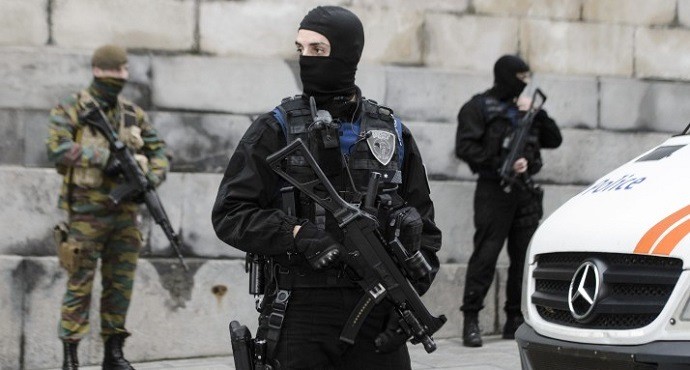 Paris Terror Attack fugitive, Salah Abdeslam, among 5 suspects arrested following a shootout in Brussels on Friday.
A total of five people were arrested on Friday, including the most wanted fugitive following the Paris attacks, Salah Abdeslam, in a four-hour police operation in Brussels suburb, Belgium's federal prosecutor.
Salah Abdeslam, was arrested Friday along with two other suspects in a raid on an apartment in a  French president Francois Hollande said.
Belgian police discovered what they believe to be a "safe house" used by the fugitive Paris attack suspect Salah Abdeslam in a Brussels neighborhood, and found bomb-making equipment in the flat, the federal prosecutor's office said on Friday.
Abdeslam, 26, who is believed to have played a key logistical role in the November 13 attacks that left 130 people dead, was wounded and captured in a raid by armed police in Brussels on Friday after four months on the run.
"We got him," said Belgium's Immigration Minister Theo Francken.
French President François Hollande, in a joint news  briefing with Belgian Prime Minister Charles Michel, confirmed Abdeslam's arrest and said he was "directly linked to preparing, organizing and, unfortunately, perpetrating" the attacks in November in Paris that killed 130 people. Michel called the arrests a success in the "fight against terrorism."
"Our fight is not finished," Hollande told reporters in Brussels, where EU leaders had been holed up all day discussing Europe's migrant crisis.
He said French officials would "imminently" request Abdeslam's extradition to France. Shortly after the arrest, President Obama called Hollande and Michel to congratulate them on the arrest.
Investigators believe much of the planning and preparation for the November bombing and shooting rampage in Paris was conducted in Brussels by young French and Belgian nationals, some of whom fought in Syria for Islamic State.
The attack strained relations between Brussels and Paris, with French officials suggesting Belgium was lax in monitoring the activities of hundreds of militants returned from Syria.
Who Is Salah Abdeslam?
Abdeslam is the only member of the 10-person team that conducted the Paris attacks, which killed 130 people, who is still alive.
Unlike Abdelhamid Abaaoud, the alleged mastermind who was killed in France shortly after the attacks, Abdeslam did not have a long history of jihadism, and had not traveled to Syria to fight alongside ISIS.
But Abdeslam was reportedly a childhood friend of Abaaoud. Both were the children of Moroccan immigrants living in Molenbeek. Abdeslam was two years younger, and though born in Belgium, he was a French national.