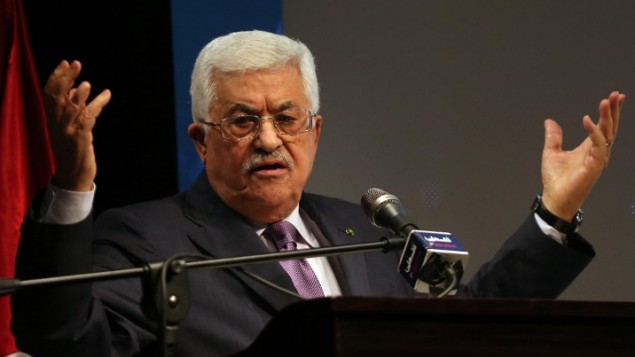 Palestinian President Mahmoud Abbas has announced he has been discussing plans with Jordan to resubmit a bid for the establishment of a Palestinian state to the UN Security Council after a similar resolution failed to pass last week.
"We didn't fail, the UN Security Council failed us. We'll go again to the Security Council, why not? Perhaps after a week," Abbas told officials at a cultural conference in the West Bank city of Ramallah on Sunday, Reuters reports.
"We are studying it, and we will study this with our allies and especially Jordan … to submit the resolution again, a third time or even a fourth time," he added.
In last Tuesday's vote, the Palestinian statehood measure received eight votes in favor, two against, and five abstentions. The US and Australia voted against the bid, while Britain abstained.
The bid called for Israeli withdrawal to pre-1967 borders and Palestinian independence by 2017.
Also Read: Palestine files a request to ICC to investigate Israeli war crimes
In response to the Palestinian Authority filing a request to join the International Criminal Court earlier this week, Israel is poised to ask Congress to stop funding the Palestinian Authority. Israeli also government froze NIS 500 million ($127 million) in Palestinian tax revenues collected on Ramallah's behalf.
An Israeli official said Sunday that Jerusalem will turn to pro-Israel Congress members to ensure that a law banning funds to the Palestinian Authority should it turn to the ICC be enforced, Haaretz reported. The Palestinians stand to lose some $400 million per year in US aid.
The stop-gap funding bill passed by Congress and signed by President Barack Obama last month contains language that stipulates that no State Department economic support funding may be given to the PA if "the Palestinians initiate an International Criminal Court judicially authorized investigation, or actively support such an investigation, that subjects Israeli nationals to an investigation for alleged crimes against Palestinians."
Earlier Sunday, Prime Minister Benjamin Netanyahu threatened a strong response to the Palestinian application to join the ICC, saying the move represented the opening salvo of a further confrontation with Israel.
Speaking to his cabinet hours after Jerusalem announced financial sanctions in response to the Palestinian move, Netanyahu vowed Israel would take action and that the country would not sit back and allow IDF soldiers to be prosecuted abroad.
"The Palestinian Authority has chosen confrontation with Israel and we will not sit idly by," Netanyahu said at his office in Jerusalem. "We will not allow IDF soldiers and commanders to be hauled before the International Criminal Court in the Hague."
IRIA/RT/The Times of Israel