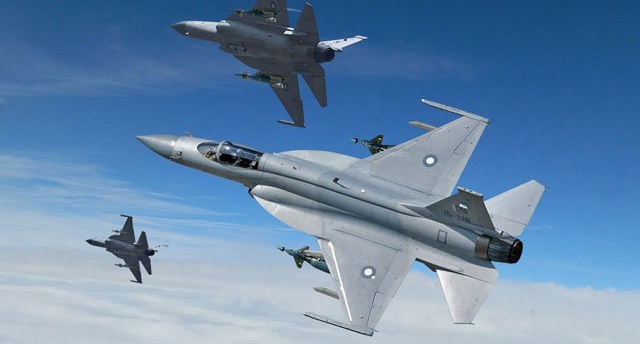 Pakistan and Sri Lankan officials call for closer military cooperation
COLOMBO, (Sri Lanka) — Pakistan and Sri Lanka have signed an agreement under which Pakistan would sell eight JF-17 Thunder aircraft to Sri Lanka in the initial stage despite Indian pressure.
The agreement is part of several memorandum of understanding (MoUs)inked between Pakistan and Sri Lanka during Prime Minister Nawaz Sharif's three-day visit to the island earlier today.
The multi-roll fighter aircraft is the joint production of Pakistan and China.
Defence officials accompanying the prime minister said that both countries signed eight agreements related to defence, security, anti-terrorism, trade and science and technology and Pakistan would provide eight JF-17 fighter jets to Sri Lanka at the first phase.
Prime Minister Nawaz Sharif and Sri Lankan President Maithripala Sirisena were present at the ceremony of signing agreements.
PM Nawaz Sharif said that Pakistan was cooperating with Sri Lanka in defence sector and the two countries would work together to choke financial assistance to terrorists. He said that Pakistan and Sri Lanka were intended to strengthen bilateral relations as they had unanimity of views on the international and regional issues. He said that his visit was reflective of close relationship between the two sides.
Pakistan's Prime Minister Nawaz Sharif called Tuesday for closer military cooperation with Sri Lanka on an official visit to the island.
Sri Lankan President said that his country enjoys close relationship with Pakistan and Sri Lankan people acknowledged Pakistan's role in promotion of bilateral ties between the two countries. He said that the leadership of Prime Minister Nawaz Sharif has created political stability in Pakistan.
Later, addressing a seminar on Pakistan-Sri Lanka relations at the Institute of International Relations and Strategic Studies in Colombo, the prime minister urged all regional countries to enhance their literacy rate and overcome diseases, poverty and malnutrition. "We should also strengthen our bonds of trust for resolution of these problems," he said.
Pakistan was a key supplier of arms and aircraft for Sri Lanka's military in their battle against separatist Tamil Tiger rebels during the civil war that ended in May 2009.
In talks with President Maithripala Sirisena and Prime Minister Ranil Wickremesinghe, Sharif also expressed a desire for more naval exchanges.
"I conveyed our desire for more frequent port calls, participation in military exercises and defence seminars and training of military personnel," Pakistan's leader said in a statement following an official welcoming ceremony.