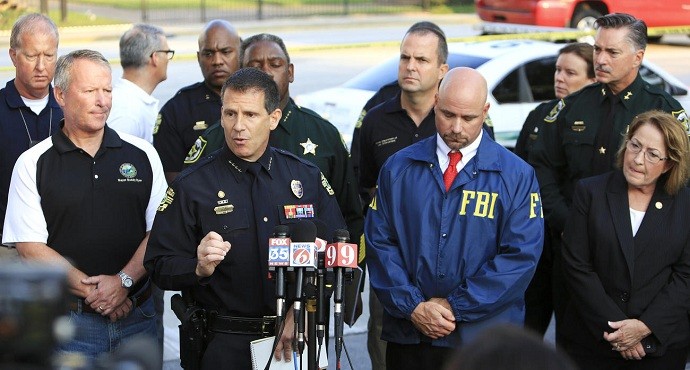 Orlando shooting: 49 dead, 53 wounded in worst shooting in US history
News, US
June 12, 2016
1 Comment
At least 49 people were killed and 53 others injured when a heavily-armed gunman opened fire and seized hostages at a gay nightclub in Orlando, Florida
ORLANDO, (Florida, U.S.) — The deadliest shooting attack in U.S. history killed at least 49 people and injured 53 people at a popular gay nightclub in Orlando. The worst attack has left the nation in deep sorrow and also reignited concerns about homegrown American terrorists.
The killer, Florida security guard Omar Mateen, was an alleged homophobe who targeted a beloved refuge for young gays and lesbians.
Mateen, a 29-year-old American-born Muslim, died in a gun battle with a SWAT team early Sunday.
Mateen was apparently on the FBI radar after separate reports of "extremist behaviour". But FBI officials said they had investigated him in 2013 and 2014 on suspicion of terrorist sympathies but could not make a case against him.
At an early morning news conference, the police chief, John Mina, said police officers had three confrontations with the gunman, identified as Omar Mateen. Negotiators also began to talk with Mr. Mateen, whom Chief Mina described as "cool and calm."
The first came when an off-duty officer who had been working at the nightclub responded to shots fired at about 2 a.m., Chief Mina said. Additional officers rushed to the scene. "At that time we were able to save and rescue dozens and dozens of people and get them out of the club," Chief Mina said.
When asked during the media briefing if there was a chance that people might have been struck by friendly fire, Chief Mina said: "I will say that is all part of the investigation. But I will say when our SWAT officers, about eight or nine officers, opened fire, their backdrop was a concrete wall. And they were being fired upon, so that is all part of the investigation."
At least 53 people were hospitalized, most in critical condition, and a surgeon at Orlando Regional Medical Center said the death toll was likely to climb. Five are in grave condition, the Orlando Sentinel reported.
"Today we're dealing with something that we never imagined and is unimaginable," Orlando Mayor Buddy Dyer said at a news briefing.
There were approximately 300 to 350 people inside the club at the time of the shooting. The attack occurred in two areas of the nightclub.
Before the Orlando attack on Sunday, 45 people in the United States had died in jihadist terrorist attacks since 9/11, according to a database maintained by the New America, a Washington think tank.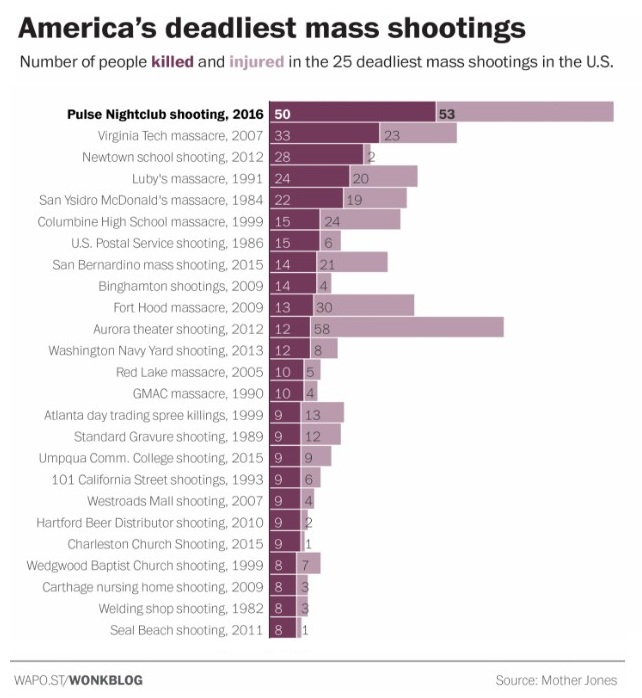 Orlando shooting was a case of 'homegrown extremism': Obama
After being briefed on the case Monday, President Obama said, "It appears that the shooter was inspired by various extremist information" online; he added that "all those materials" are now being scrutinized and "exploited." The president discussed the Orlando case in the Oval Office, in which he spoke for nearly 15 minutes Monday.
The president added that investigators aren't seen signs that Mateen was directed by ISIS, noting that the gunman pledged allegiance to the group at a late juncture. Comparing the attack to one that hit San Bernardino, Calif., last December, Obama called it "homegrown extremism."
Timeline of the Orlando attack
2 a.m.: Closing time at Pulse, about two minutes after 2 a.m., the first shots rang out. Witnesses think they are part of the music. Some survivors are able to escape, security and two other officers all fire on the shooter who takes hostages
2:09 a.m.: Pulse management posts on Facebook: "Everyone get out of Pulse and keep running."
2:22 a.m.: Mateen calls 911 pledging allegiance to ISIS and mentioning the Boston Marathon bombers.
5 a.m.: A SWAT team uses an armored vehicle to smash down a door, 30 more people escape
Officers shoot and kill Mateen in the doorway.
Who was Omar Seddique Mateen?
Two counterterrorism officials said Mr. Mateen, 29 years old, worked as a security guard, had a gun license and was a U.S. citizen.
Omar Seddique Mateen was born in the U.S. to parents from Afghanistan. He lived in the Port Saint Lucie, Fla., area, officials said. He was married and had a 3-year-old son, according to his father.
A woman who said she is the ex-wife of Mr. Mateen described him as an "unbalanced" person and said she was "literally rescued" by her parents after four months of marriage. Mateen had a gun licence and a history of steroid abuse, and her family had warned him that if he tried to contact her they would go to the authorities. "The cops were called in on him" more than once, her father said.
According to Tampa FBI Assistant Special Agent-in-Charge Ronald Hopper, the FBI had investigated Mateen twice: In 2013, after he "made inflammatory comments to coworkers alleging possible terrorist ties" and in 2014 when the agency evaluated his possible ties to U.S. suicide bomber Moner Mohammad Abusalha.