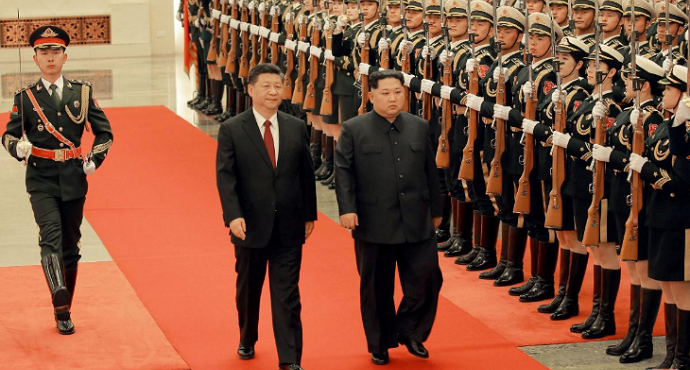 China says Kim pledges denuclearization during the friendly visit
North Korea's reclusive leader Kim Jong Un visited Beijing and met the Chinese President Xi Jinping in his first known trip to a foreign country since he took power in 2011.
The official Xinhua News Agency confirmed that Kim made an unofficial visit to China from Sunday to Wednesday.
Chinese state media quoted North Korea's leader as saying that he is committed to the denuclearization of the Korean Peninsula but Lee warned Kim would seek major concessions in exchange for giving up nuclear weapons.
The official New China News Agency says Kim told Chinese leader Xi Jinping: "If South Korea and the United States respond with goodwill to our efforts, and create an atmosphere of peace and stability, and take phased, synchronized measures to achieve peace, the issue of the denuclearization of the peninsula can reach resolution."
Xi held talks with Kim at the Great Hall of the People in Beijing and he and his wife Peng Liyuan hosted a banquet for Kim and his wife Ri Sol Ju, news agency Xinhua said.
WATCH: DPRK's Kim Jong Un attends a banquet and a luncheon held by China's Xi Jinping in Beijing. Kim also made a visit to an innovation exhibition of the Chinese Academy of Sciences. (Video/CGTN) pic.twitter.com/zBUearUgjs

— People's Daily,China (@PDChina) March 28, 2018

Analysts said the visit was a courtesy call to enhance ties between Pyongyang and China, traditional allies and major trading partners. and aims to serve as preparation for upcoming summits with South Korea and the United States.
Kim called for a "new era" in bilateral relations in a letter to Xi published by the Korean Central News Agency (KCNA), which also reported that Xi had accepted an invitation to visit North Korea "at a convenient time."
Key points:
The visit was Kim's first known trip outside North as leader
Kim said he was committed to denuclearization but with conditions, Xinhua reported
Xi hosted a grand banquet for Kim at the Great Hall of the People
Kim traveled to China by train on March 25 and spent two days in Beijing
North Korean state media said Xi accepted an invitation to visit Pyongyang
White House said it was informed of the meeting Tuesday