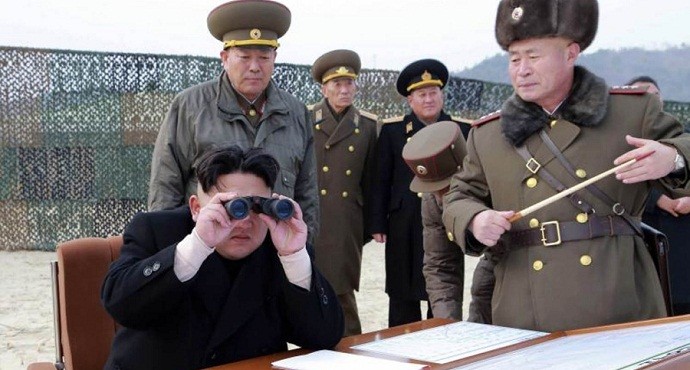 Pyongyang says it would carry out 'merciless' attacks if Foal Eagle exercises threatened its territories.
North Korea has warned it will take it "toughest" military action on Thursday, following South Korea and the United States' joint annual two-month field training exercise.
Seoul and Washington began their joint military exercises on Wednesday which includes aerial, ground and naval drills.
The exercise, called Foal Eagle, comes amid heightened tension following the latest test launch of a ballistic missile by the North on Feb. 12 and in the past prompted threats by Pyongyang to launch military action in retaliation.
The Korean People's Army (KPA) has said it will "counter (the drills) with the toughest counteractions" targeting South Korea, the USs and its "vassal states" participating in the exercises known as Key Resolve and Foal Eagle, a KPA spokesman said in a statement released by state news agency KCNA.
"Should the US imperialists and the South Korean puppet forces fire even a single shell into the waters where the sovereignty of our Republic is exercised, the KPA will immediately launch its merciless military counter-actions," according to the statement.
In response, Col. Roh Jae-cheon, spokesman for Seoul's JCS, said the North would face firm retaliation.
"The joint drills by South Korea and the United States are defensive in nature, designed only to bolster our readiness and defend the Republic of Korea in the event of a contingency," he said.
The exercise last year involved about 17,000 American troops and more than 300,000 South Koreans.
U.S. Defense Secretary Jim Mattis spoke with South Korean Defense Minister Han Min-Koo early on Wednesday by telephone and said the United States remains steadfast in its commitment to the defense of its ally.
Mattis welcomed a deal signed by South Korea with the Lotte Group conglomerate this week to secure the land to station the Terminal High Altitude Area Defense (THAAD) missile defense system in the South, the two countries said.