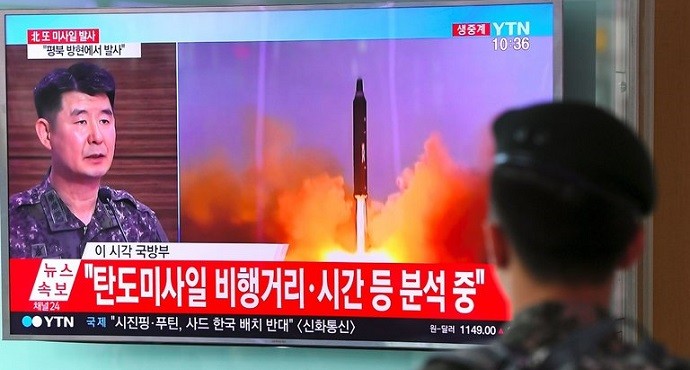 North Korea claims successful intercontinental ballistic missile test, defying international condemnation
North Korea on Tuesday launched what appeared to be its longest-range ballistic missile yet, with experts suggesting it could reach Alaska.
In a special television announcement, North Korean state media claimed the country had successfully tested an intercontinental ballistic missile, which, if confirmed, would be a major development.
The "unidentified ballistic missile" was fired from a site in North Phyongan province, the South's Joint Chiefs of Staff said in a statement, and came down in the East Sea, the Korean name for the Sea of Japan.
North Korea's KCNA said that the missile was a Hwasong-14, which it described as an "almighty ICBM rocket," launched at a steep trajectory, traveling 930 kilometers and reaching an altitude of 2,082 kilometers.
ICBMs have a minimum range of around 5,500 kilometers and are capable of carrying nuclear weapons. For its part, South Korea did not rule out the possibility of the missile being an ICBM.
"The initial analysis by South Korean and the U.S. authorities is assuming that today's provocation was of a mid-to-long range missile, but we are not ruling out the possibility of the missile being ICBM class," South Korea's President Moon Jae-In said, according to a press pool report on Tuesday.
US Pacific Command confirmed the test and said it was a land-based, intermediate range missile that flew for 37 minutes, adding the launch did not pose a threat to North America.
"That's it. It's an ICBM," responded arms control specialist Jeffrey Lewis on Twitter. "An ICBM that can hit Anchorage not San Francisco, but still."
This launch was the latest in a series of provocations that have ratcheted up tensions, and came days after Seoul's new leader Moon Jae-In and Trump focused on risks from Pyongyang in their first summit.