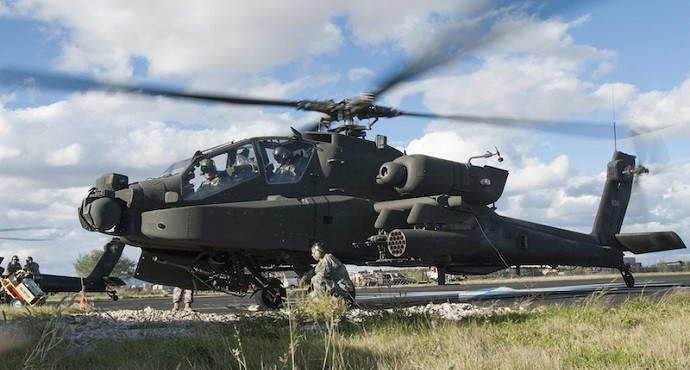 Lockheed Martin to provide Egypt with Apache Targeting/Vision Systems
Lockheed Martin has been awarded a $25 million contract by the Army for night vision sensor kits for Egypt's AH-64 Apache fleet.
Egypt wants to enhance target acquisition and night vision capabilities on its Boeing Apaches.
The deal, announced by the Department of Defense through foreign military sales, come under a modified agreement for Lockheed Martin to provide the technology.
Lockheed Martin is to deliver Modernized Target Acquisition Designation Sight/Pilot Night Vision Sensor System, or M-TADS/PNVS, system kits and spares for the AH-64 Apache for some US$25.2 million.
U.S. Army Contracting Command, Rock Island Arsenal, Illinois, is the contractor and the work is to be performed Orlando, Florida, with an estimated completion date of April 30, 2020.
The Modernized Target Acquisition Designation Sight/Pilot Night Vision Sensor (M-TADS/PNVS) is a long-range, precision engagement and pilotage solution for day, night and adverse weather missions.
Lockheed Martin's M-TADS/PNVS system is an electro-optical sensor that provides Apache aircrews enhanced situational awareness with greater performance and survivability.
 Pilots employ the technology for targeting and pilotage in day, night and/or adverse-weather missions.
It was first fielded in 2005 and is claimed to have provided immediate performance improvement over the legacy system by increasing standoff ranging for U.S. forces while providing aircrews with greater resolution for pilotage and targeting, enhancing situational awareness.
Lockheed Martin said it is designed for two-level field maintenance, reducing operation and support costs. The company said it has delivered more than 1,350 M-TADS/PNVS systems and spares to the U.S. Army and international customers.