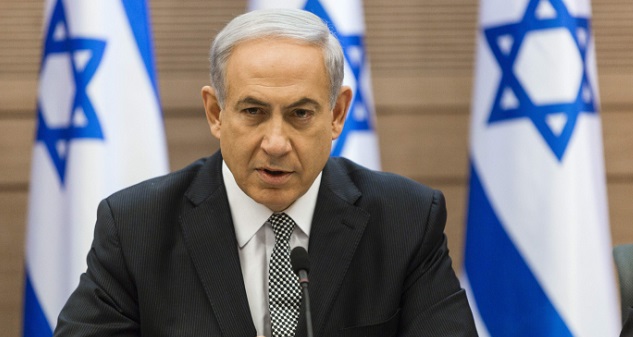 JERUSALEM — Israel's prime minister insists his country is not heading toward becoming a binational state, rejecting a warning to that effect by U.S. Secretary of State John Kerry.
At his weekly Cabinet meeting Sunday, Benjamin Netanyahu says "Israel will not be a binational state, but in order to have peace, the other side needs to decide that it wants peace as well."
Israeli PM Benjamin Netanyahu on Sunday blamed the Palestinian Authority for the stalemate in peace talks and seemed to hit back at comments made Saturday by US secretary of State John Kerry, who warned that a lack of progress on the Israeli-Palestinian conflict could lead to the end of the Jewish state.
"Israel will not be a binational state," Netanyahu said emphatically at the opening of the weekly cabinet meeting in Jerusalem. "But in order for there to be peace, the other side must decide that they also want peace, and unfortunately that is not what we are seeing."
"I see [Saeb Erekat's] office going to console the family of terrorists who tried to murder Jews," Netanyahu continued. "Not only did he not condemn the terrorist," he added, "but he goes to console the family, effectively giving support to acts of terror."
He emphasized that "anyone who wants peace must condemn these actions."
In his recent speech harshly critical of Israel, U.S. Secretary of State John Kerry warned that current trends in the Israeli-Palestinian conflict are leading to a one-state reality. Addressing the Saban Forum in Washington, D.C., Kerry also warned of the Palestinian Authority's collapse and called on Netanyahu to prove that his support for the two-state solution isn't just a slogan but a part of Israeli policy.
The secretary of state made the remarks a week after visiting Jerusalem and Ramallah, a trip during which he failed to secure willingness on the part of Netanyahu and Palestinian President Mahmoud Abbas to take confidence-building measures.