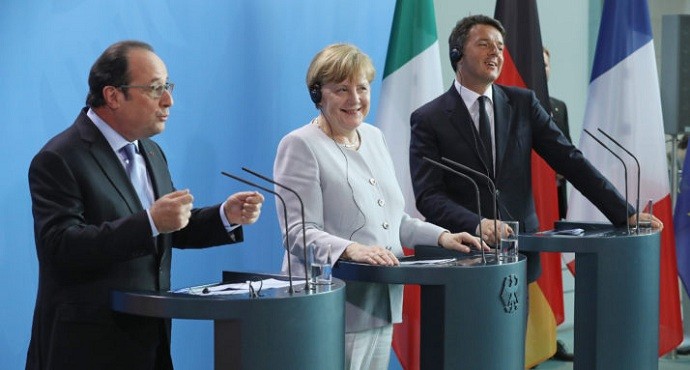 Germany, France and Italy vow to boost EU security in wake of terrorism, migrant crisis
Europe, News
August 23, 2016
No Comments
Renzi, Merkel and Hollande talk ahead of EU summit in Bratislava in September to discuss relaunching Europe after Brexit Vote
The leaders of Germany, France and Italy have vowed to boost joint European security efforts in the wake of terror attacks as Brussels gears up for years-long negotiations with the UK over its decision to leave the bloc.
Speaking on an aircraft carrier off the Italian island of Ventotene, Germany's Angela Merkel, France's Francois Hollande and Italy's Matteo Renzi issued calls for closer security cooperation and better opportunities for young people.
The joint press conference was held at a symbolic venue as Italian navy's aircraft carrier Garibaldi serves as a flagship in the EU's migrant rescue mission deployed in the Mediterranean.
The three leaders discussed other major challenges, including Europe's migration crisis and youth unemployment.
Renzi, Merkel and Hollande all voiced support for improved internal and external defense measures, including better intelligence-sharing and beefed-up border defenses.
The meeting aims "to show the unity of Europe's three biggest countries, but not to create a specific club", French diplomatic sources said, adding that the main goal was to prepare the informal Bratislava summit to map out a post-Brexit course for the bloc.
French President warns of 'fragmentation and division' in EU bloc
French President Francois Hollande, meanwhile, warned of the risk of "fragmentation and division" the bloc faces in the future.
The French president said members of the EU have three major priorities: cooperating more closely on security matters; stimulating public and private investment; and helping to train young people to get jobs.
"The idea of a European defense takes on an absolute crucial relevance now, since we are facing internal threats and wars in countries near us," Hollande told the press conference.
"We are not here to take decisions for others (EU members), but to prove we are ready to take on our responsibilities, as EU's three largest countries, in order to bring Europe towards a future of greater cohesion and unity," the French president added.
"To have security we need frontiers that are controlled so that is why we are working to reinforce coastguards and border guards," he said. "We want more coordination in the fight against terrorism."
Merkel warns of security challenges
Merkel and her colleagues also addressed some of the major crises in the world today, especially terrorism. "We feel that in the face of Islamist terrorism, and in light of the civil war in Syria, we must do more for our inner and outer security," Merkel said. "Defense cooperation … should be strengthened and the exchanges between our intelligence services must be intensified."
Speaking on the refugee issue, she said: "Germany has changed it stance" on the migrant issue. "For many years we were against the Europeanisation of this issue, now we want more European cooperation."
Merkel said the EU is currently facing "enormous challenges" and needed to work together especially on the security front at home and abroad.
Italy calls for common defense and shared intelligence to secure EU
Italian Prime Minister Matteo Renzi emphasized his optimism for the future of the EU. "Many thought the EU was finished after Brexit, but that is not how it is," he said. "We respect the choice of the Britons, but we want to write our future."
Further European integration should rest on common defense, shared intelligence and strong measures to revamp economic growth, Renzi added.
"We have to address these top priorities, along with (a plan of) high quality investments combined with structural reforms," the Italian prime minister said.
Italy, the main entry point for Africans but rarely their planned destination, is struggling to house migrants turned back from neighbouring countries including France, and disagrees with Germany over how to finance the response.
The talks in Ventotene island also aimed at preparing the ground for an informal EU summit scheduled in Bratislava for Sept. 16, in which all EU leaders but the British prime minister will discuss the effects of the Brexit vote on the economy.