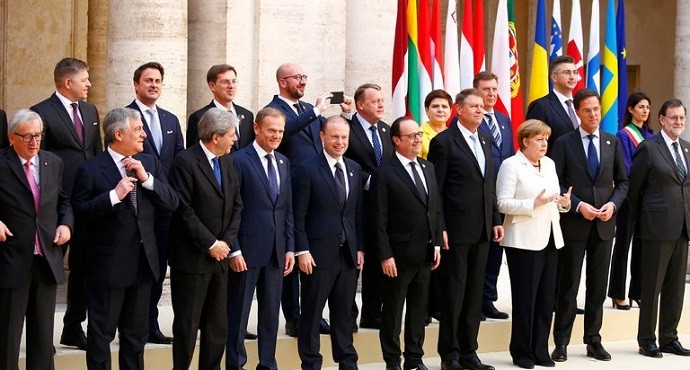 EU leaders sign new declaration on 60th anniversary of Rome treaty
Europe, News
March 26, 2017
No Comments
EU 'will either be united, or will not be at all', says European Council President Donald Tusk
Leaders of 27 European Union countries, excluding Britain, marked the 60th anniversary of the bloc's founding by renewing their commitment to a common future.
EU leaders signed a new declaration on the Capitoline Hill where six founding states,  France, Germany, Italy, the Netherlands, Belgium and Luxembourg, signed the Treaty of Rome on March 25, 1957.
The statement, known as the Rome Declaration, signed on the anniversary of the day the bloc's foundations, emphasized the aspirations of a "unique union with common institutions and strong values, a community of peace, freedom, democracy, human rights and the rule of law."
The ceremonial gathering in Rome began with an audience with Pope Francis who gave messages of solidarity in the Vatican.
A keynote speaker, European Council President Donald Tusk, warned that the EU "will either be united, or will not be at all". Tusk urged the bloc to come together following Britain's planned departure.
Today in Rome we are renewing the unique alliance of free nations initiated 60 years ago by our great predecessors.https://t.co/RKSlksmBkK pic.twitter.com/CwkL2jWsoM

— Donald Tusk (@eucopresident) March 25, 2017
With Britain on Wednesday starting a two-year timetable to leave the union, British Prime Minister Theresa May was absent from the gathering.
"Europe was a dream that has turned into a nightmare," 50-year-old Italian Mario De Giorgi said. "We are Italians who want more rights and a better life, what we had before the euro."
"Europe gave us 60 years of peace, so I felt I had to give something back," said Mauro Armadi, 23, who had traveled to Rome from Taranto, in Puglia, to show his support for the treaty.
European Parliament President Antonio Tajani told those gathered in Rome we are not tired of Europe, but we want it to work better.
"There have been too many mistakes, it is not complete, it is often removed from real issues, divided, powerless, too bureaucratic," Tajani said.
European Union states, in the Declaration, have pledged to work towards a secure, strong and prosperous Europe. The statement calls on Europe's leaders to seize the opportunity with both hands and show leadership, vision and courage to set Europe on the path to a sustainable future which realises the rights of all people and respects planetary boundaries.