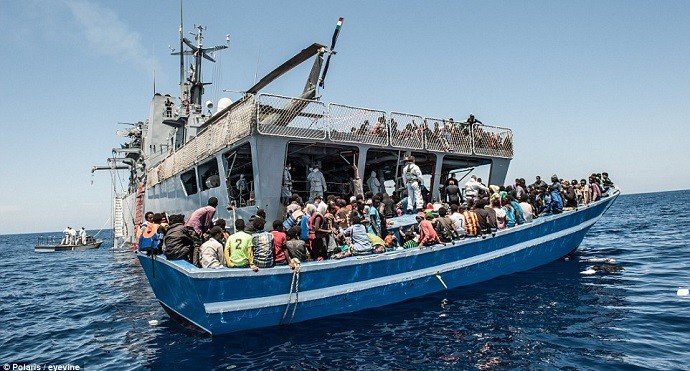 Overwhelmed by immigrants, Italy threatens to block rescue ships
European ministers are holding emergency talks on the migrant crisis, after Italy threatened to block rescue ships due to the "unsustainable" flows of refugees.
Interior ministers from Germany, France, Spain and Italy will discuss the situation in Paris on Sunday, and consider the request from Rome for rescue ships with foreign flags to disembark in other European countries.
More than 12,000 immigrants have been rescued in the blue seas of the Mediterranean in the past four days. The rising number has overwhelmed Italian policymakers threatening to partly bar their ports to rescue ships.
Italy's interior minister on Sunday called on European countries to open their ports to migrant rescue ships as he met for crisis talks with his French and German counterparts.
Italy has threatened to close its ports to charity ships that rescue migrants in the Mediterranean if other EU states do not agree to take some of the growing number of refugees onto their shores.
"We are under enormous pressure," Marco Minniti said in Paris before the talks, which are taking place ahead of an EU summit in Tallinn this week.
The situation in Italy was described as "an unfolding tragedy" by UN High Commissioner for Refugees Filippo Grandi.
"But this cannot be an Italian problem alone," he said. "It is, first and foremost, a matter of international concern, requiring a joined-up, comprehensive regional approach."
EU migration commissioner Dimitris Avramopoulos has already promised that the EU is ready to increase financial support for Italy to manage the flow of people.
Why is Italy struggling with record number of refugees?
More than 500,000 migrants have passed through Italian ports since 2014, and numbers are on the rise again.
Italy is the main destination for migrants attempting to reach Europe by sea, due to its proximity to Libya.
According to the UN, 83,650 people have reached Italy by sea since the beginning of the year – a 20% increase on the same period in 2016.
About 12,600 migrants and refugees have arrived in the last weekend alone.
Most migrants make the journey across the Mediterranean in brittle boats, and the UN estimates that 2,030 migrants have died or gone missing since the start of the year.