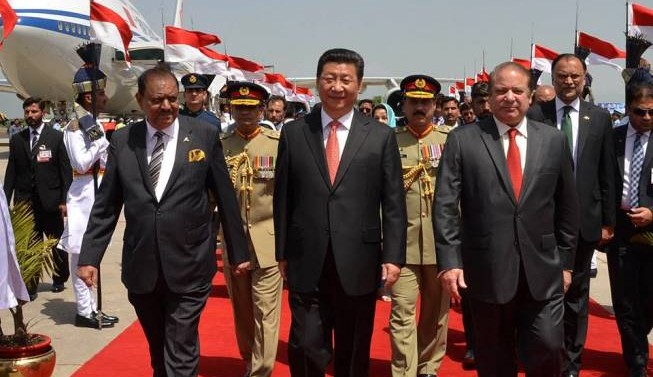 President Xi oversaw agreements on pipelines, power plants and other projects as part of a massive $46 billion joint development programmme
ISLAMABAD, (Pakistan) — Chinese President Xi Jinping arrived in Islamabad for a two-day visit to Pakistan on Monday. The much anticipated visit is the first by a Chinese president to Pakistan after nine years.
Prime Minister Nawaz Sharif and the Pakistan's top civilian and military leadership received the Chinese president at Nur Khan air force base near Islamabad. President Xi Jinping was given a military guard of honour. A 21-gun salute was also presented to the honorable guest at the airport.
The historic ceremony was attended by Prime Minister Nawaz Sharif, Chinese President Xi Jinping and high-level officials from both sides in which few agreements were signed by dignitaries, after which Nawaz Sharif and Xi Jinping shared their views on the bilateral relations.
In a joint statement issued after Chinese President Xi Jinping's meeting with his Pakistani counterpart Mamnoon Hussain and Prime Minister Nawaz Sharif, the two sides said they believe that a peaceful, stable, cooperative and prosperous South Asia is in the common interest of all parties.
"The two sides are ready to work together for peace, development and cooperation among the South Asian countries so as to achieve enduring peace and common prosperity in the region," it said.
"In fact, friendship and cooperation between Pakistan and China serve the fundamental interests of the two countries and peoples, and contribute to peace, stability and development in the region and beyond," the two sides said in the statement.
President Xi Jinping in his address said China is prepared and willing to help strengthen Pakistan's capacity to fight terrorism.
The building of the Pakistan China Economic Corridor has an important bearing on national strategies and livelihoods of the two countries, he said. The two sides believe that the layout and construction of the corridor should take into account the interest of various regions of Pakistan so that the building of the corridor will benefit people, said Xi.
In his speech, Nawaz Sharif welcomed the Chinese leader and referred to China as an all-weather friend. "There have been critical changes in China and Pakistan, and major regional and international development, but our ties have remained robust. Four generations of our leaders and people have sustained them with passion and wisdom."
"This corridor will benefit all provinces and areas in Pakistan, and transform our country into a regional hub and pivot for commerce and investment. It will also enable China to create a shorter and cheaper route for trade and investment in south, central and west Asia, and the Middle East and Africa. This corridor will become a symbol for peace and prosperity."
Economic corridor in focus as Pakistan, China sign 51 MoUs
A ceremony was organised at the Prime Minister's Office on Monday, where Pakistan and China signed 51 Memorandums of Understanding (MoUs) nd agreements in different sectors, including energy, infrastructure, security and economic development, including the Pakistan China Economic Corridor.
China's President Xi Jinping has signed agreements with Pakistan promising investment of $46bn. The focus of spending is on building a China-Pakistan Economic Corridor (CPEC) – a network of roads, railway and pipelines between the long-time allies. They will run some 3,000km (1,800 miles) from Gwadar in Pakistan to China's western Xinjiang region.
Under the CPEC plan, China's government and banks will lend to Chinese companies, so they can invest in projects as commercial ventures.
Some $15.5bn worth of coal, wind, solar and hydro energy projects will come online by 2017 and add 10,400 megawatts of energy to Pakistan's national grid, according to officials. A $44m optical fibre cable between the two countries is also due to be built.
"They (agreements) include the facilities of the Gwadar port, the second phase of the upgrading project for the Karakoram highway, the motorway project between Karachi and Lahore, the rail transportation Orange line project of Lahore and other major transportation infrastructure projects and a series of energy projects," Chinese President said.
Beijing hopes the investment will stabilise its longtime ally's economy and extend China's influence in western Asia. Pakistan hopes that the investment plan will end a chronic energy crisis and transform it into a regional economic hub.
Cooperation in civil nuclear energy agreed between Pakistan and China
Pakistan and China have agreed to continue bilateral cooperation in civil nuclear energy under IAEA safeguards, in line with their respective bilateral and multilateral commitments.
"China appreciates and supports steps taken by Pakistan towards its mainstreaming into the global non-proliferation regime," a joint communiqué issued from foreign office said.
Both sides reaffirmed their commitment to multilateral non-discriminatory arms control and non-proliferation endeavours.
Cooperation in security and counter terrorism efforts
On security and counter terrorism the two sides believed that the security interests of Pakistan and China are closely interconnected, said the communiqué.
China commended Pakistan's major contribution to the international counter-terrorism efforts, and said it will continue to support Pakistan in implementing its counter-terrorism strategy in accordance with its national conditions.