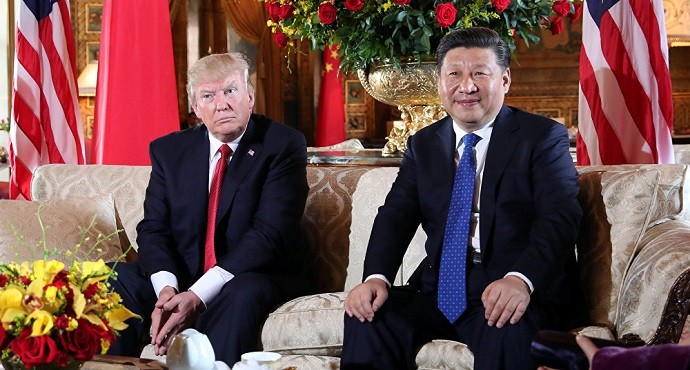 US President Trump, China's Xi Jinping talk North Korea as tension builds over nuclear threat
During a telephone call on Wednesday, Chinese President Xi Jinping urged President Trump to find a peaceful solution to the crisis on the Korean Peninsula, state media reported.
Xi Jinping told Trump that Beijing is willing to work with Washington on ending North Korea's nuclear weapons program through peaceful means.
According to a statement from China's Ministry of Foreign Affairs (MOFA), Xi reiterated that China wants a denuclearized Korean peninsula and called for peace and stability.
"China advocates to resolve the issue through peaceful means, and is willing to maintain communication and coordination with the US on the Korean Peninsula issue," the statement quoted Xi as saying.
The two leaders discussed efforts to reduce tensions surrounding North Korea's nuclear threats as a U.S. aircraft carrier strike group steamed towards the region.
Trump had ordered the USS Carl Vinson aircraft carrier group to head to the Korean peninsula in an attempt to deter North Korea's nuclear and long-range missile aims.
The White House did not issue a formal statement on conversation, though Trump tweeted he "had a very good call last night with the President of China concerning the menace of North Korea."
Chinese Foreign Ministry spokesman Lu Kang told reporters that Trump initiated the phone call, and "we hope that the relevant parties do not adopt irresponsible actions. Under the current circumstances, this is very dangerous."