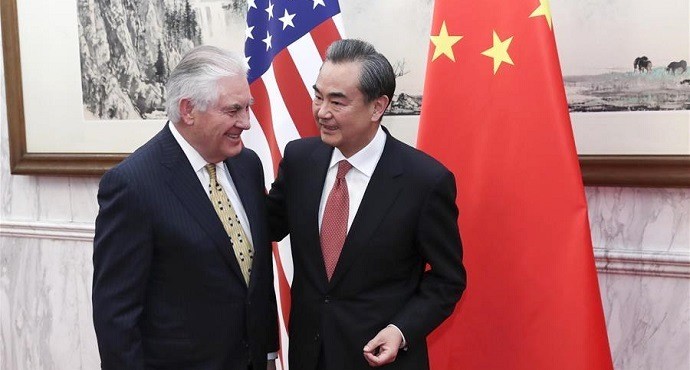 U.S. and China agree communication is key as Tillerson visit to China begins
The United States and China will work together to get nuclear-armed North Korea take "a different course", U.S. Secretary of State Rex Tillerson said on Saturday after meeting with his Chinese counterpart.
China's Foreign Minister Wang Yi has urged the US to remain "cool-headed" over North Korean tensions. Wang Yi urged the U.S. to stay "cool-headed" as it seeks to suppress North Korean nuclear ambitions that have reached "a new crossroads."
"No matter what happens, we have to stay committed to diplomatic means as a way to seek a peaceful settlement," Wang said, adding that sanctions are largely an issue between the U.S. and Pyongyang.
On his first trip to Asia this week, Tillerson had earlier declared that diplomacy has failed to persuade North Korea to abandon its nuclear program, and warned that all options, including military action, were on the table to counter the threat from Pyongyang.
Tillerson later met with Yang Jiechi, Xi's top foreign policy adviser.
China and U.S. agree communication is key
Both sides agreed that North Korea should be stopped from developing nuclear weapons and launching missile tests. "I think we share a common view and a sense that tensions in the [Korean] peninsula are quite high right now and that things have reached a rather dangerous level," Tillerson said after meeting with Wang.
The Chinese foreign minister said there had to be a commitment to use diplomatic means to peacefully settle the North Korea issue, while Tillerson said all previous attempts have failed.
Tillerson said both China and the United States felt "a certain sense of urgency" in trying to persuade Pyongyang to "make a course correction" and abandon its nuclear weapons program.
Xi Jinping and Donald Trump meeting on the cards
"We have had in-depth discussions on a meeting between the two presidents and begun preparations," Wang told reporters after their talks. He said that the two sides agreed to keep close communication to ensure the success of the meeting between the two presidents as well as exchanges at other levels.
China-U.S. ties are now developing positively and steadily, Wang said, calling for the implementation of the consensus reached by Chinese President Xi Jinping and U.S. President Donald Trump.
Overall, though, Tillerson and Wang tried to strike a positive tone, repeating the reassuring mantra that U.S.-China relations were founded on the principles of avoiding conflict and confrontation, and promoting mutual respect and "win-win cooperation."
A former oil executive with no prior diplomatic experience, Tillerson will meet Chinese President on Sunday.