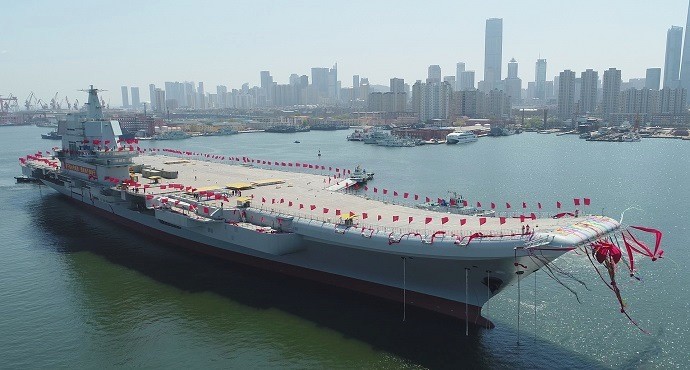 China launches its first locally built 50,000-ton aircraft carrier
China has launched its second aircraft carrier — and its first ever built domestically.
The 50,000-ton carrier was towed from its dockyard after a ceremony in the northern port city of Dalian.
The new three-hundred-meter-long Type 001A is slightly larger than its predecessor, the Soviet-built Liaoning, and is estimated to carry a few more J-15 Flying Shark jet fighters, perhaps up to around thirty.
The ceremony to launch the Type 001A carrier took place at the China Shipbuilding Industry Corporation's shipyard at Dalian, Liaoning province, in northern China where the ship has been under construction since 2013.
The launch comes just days after the 68th anniversary of the founding of China's People's Liberation Army Navy, or PLAN.
The official news website of China's People's Liberation Army said Gen. Fan Changlong, a member of the Political Bureau of the Communist Party of China Central Committee and vice chairman of the Central Military Commission, attended the ceremony, where he was joined by People's Liberation Army Navy (PLAN) commander Vice Adm. Shen Jinlong, PLAN Political Commissar Adm. Miao Hua and Hu Wenming, the shipyard's president.
The carrier, which is rumored but not confirmed to be named Shandong, has now been moved from its dry dock to the adjacent berth, where it will undergo final construction, fitting out and builder's trials before being commissioned into the PLAN, which is expected to occur sometime in 2019.
China is believed to be planning to build at least two and possibly up to four additional carriers, with one of them, the Type 002, reported to be under construction at a shipyard outside Shanghai. These carriers are expected to be closer in size to the US navy's nuclear-powered 100,000-ton Nimitz-class ships, with flat flight decks and catapults to allow planes to launch with more bombs and fuel aboard.
India, along with Japan and Taiwan which also view Chinese carriers as threats, will likely respond by building new submarines and anti-ship missiles, said Ian Easton, a research Fellow at The Project 2049 Institute in Arlington, Virginia.