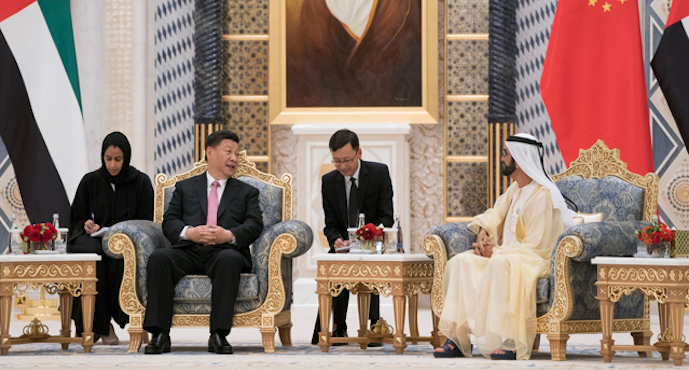 UAE joins hands with China to boost Silk Road project as the two countries signed 13 MoUs
The UAE and China have agreed to enhance cooperation in all fields and forge strategic partnerships to boost joint development and prosperity, which is consistent with the common interest of both countries and their peoples.
The UAE and China agreed to establish a comprehensive strategic partnership during Chinese President Xi Jinping's three-day state visit.
It was the first visit by a Chinese president to the country in 28 years.
In UAE, President Xi Jinping was received by Sheikh Mohammed bin Zayed, Crown Prince of Abu Dhabi and Deputy Supreme Commander of the Armed Forces, and Sheikh Mohammed bin Rashid, Vice President and Ruler of Dubai, at the Presidential Palace in Abu Dhabi, where they held high-level talks.
Cooperation between the two countries has been extended in the areas of economy, trade and energy. The governments of the United Arab Emirates and the People's Republic of China signed at least 13 Agreements and Memorandum of Understanding (MoU) on various subjects including that concerning joint cooperation on the Silk Road Initiative and the 21st Century Maritime Silk Road Initiative.
The agreement in Silk Road Initiative was inked by Dr. Sultan bin Ahmad Sultan Al Jaber, Minister of State, and He Lifeng, Chairman of the National Development and Reform Commission, NDRC, during the state visit of President Xi Jinping of China to the UAE, the MoU on Silk Road initiative will contribute to facilitating exchange and integration of commodities, technology and capital through mutual education and cooperation.
"The MoU is a clear indicator of the strong ties between the UAE and China and underscores the commitment of leadership in both friendly countries to further consolidate their joint action to serve mutual interests and interests of the region and the world as well," Dr. Al Jaber said.