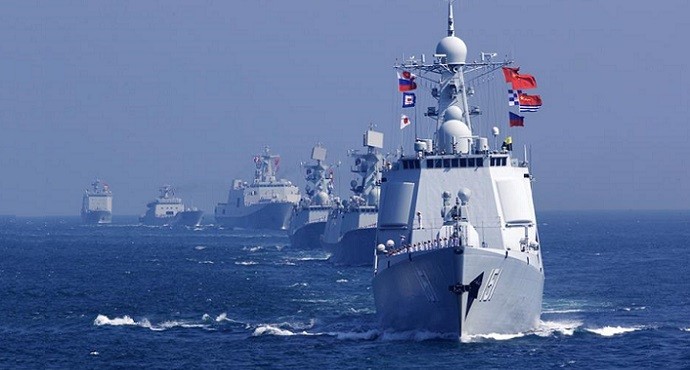 Ships of the Russian and Chinese navies are carrying out first-ever joint exercise in the Baltic Sea 
Russian and Chinese naval warships are holding joint exercises for the first time in the Baltic Sea, an area of heavy presence of NATO battleships.
China's Hefei destroyer, Yuncheng frigate and Lomahu supply vessel are involved in drills with two Russian corvettes that include "artillery fire at surface and air targets" in the Joint Sea 2017 maneuvers, Russia's Tass news service reported.
"The main goals of this exercise are to further develop our bilateral relationship and to work out and improve the organisation for joint action at sea," according to a Russian ministry of defence spokesman.
"These kinds of small and light targets are quite unsteady and thus difficult to be targeted," said Zhang Yunpeng, a commander in charge of secondary guns on China's missile destroyer Hefei. A large amount of shells were fired in a blink from the Hefei ship at Zhang's order and hit the target, Xinhua reported.
Around 10 ships, including the Russian corvettes Steregushchiy and Boikiy, over a dozen planes and helicopters and hundreds of sailors are involved in the drills to carry out anti-ship, anti-submarine and anti-aircraft defense, as well as sea lane defense.
The exercise also aim to carry out joint rescue missions and ensure maritime economic activities between China and Russia.
Helicopters and Su-24 bombers will also be involved in the "anti-aircraft and anti-ship defense measures" coordinated from the Baltiysk base in Russia's Kaliningrad enclave, according to reports.
This joint naval maneuver with Russia is seen as the latest display of China's geopolitical ambition as Beijing aims to increase its influence in international and strategic affairs.
The exercises are being held amid increased tensions between Russia and the NATO which has sent reinforcements to the Baltic countries of Estonia, Latvia and Lithuania.
In recent years, Baltic states have accused Russian military planes of violating their airspace, prompting interceptions by NATO jets. Meanwhile, Russia has accused NATO of provoking tensions by building up forces along its borders.
The Joint Sea 2017 drills, which kicked off on 22 July will last until July 28.