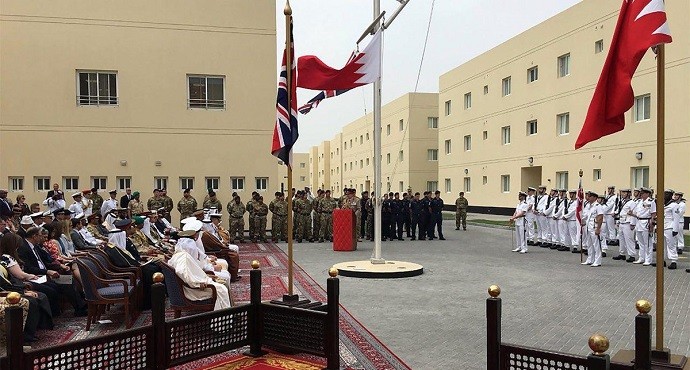 Britain opens its first permanent military base in the Middle East in more than four decades
Britain has opened a permanent military base in more than four decades in the Gulf country of Bahrain in an attempt to boost its role as a "major player" in the Middle East.
The £40m UK Naval Support facility at Mina Salman will be staffed by up to 500 soldiers, sailors and airmen. British officials have described it as the first permanent British base east of the Suez Canal since 1971.
"The aim of the Royal Navy being out here anyway is to enhance and ensure the maritime security in the region, and whether or not that's law and order on the high seas, countering piracy, countering terrorism, making sure that the high seas are all safe for the free-flow of commerce, the free flow of trade to be able to take place," said Commodore Steve Dainton, U.K. Maritime Component Commander.
Opening the fantastic new UK Naval Support Facility in Bahrain in the presence of HRH Crown Prince Salman Bin Hamad Al Khalifa and HRH The Duke of York. pic.twitter.com/Te0nv6zPGv

— Gen Chris Deverell (@ComdJFC_UK) April 5, 2018
The Naval Support Facility will play a central role in the UK's ability to operate in the region, and will be the hub of the Royal Navy's operations in the Gulf, Red Sea and Indian Ocean.
Gavin Williamson Defence Secretary said: "Our Armed Forces are the face of Global Britain and our presence in Bahrain will play a vital role in keeping Britain safe as well as underpinning security in the Gulf."
"Britain is a major player on the world stage and this new Naval Support Facility will help us tackle the growing threats to our nation wherever they are across the globe and protecting our way of life."
The new British hub makes it easier for the Royal Navy to conduct longer-term deployments in the Gulf and will offer engineering and logistical support for ships. The facility includes sleeping accommodations, sport facilities and recreational areas for troops.
"It offers us a much better base than we've had before, a much more permanent presence and a real infrastructure for our people who are working and operating here all the time," said Commander of the Joint Forces Command of the UK General Chris Deverell.
It has been 47 years since Britain left its original HMS Juffair base in Bahrain following the country's declaration of independence.
The Gulf is a major trade route for oil tankers. Iran and Saudi Arabia support opposite sides in conflicts in Syria, Iraq and Yemen. Bahrain is a close ally of Britain, the United States and Saudi Arabia.