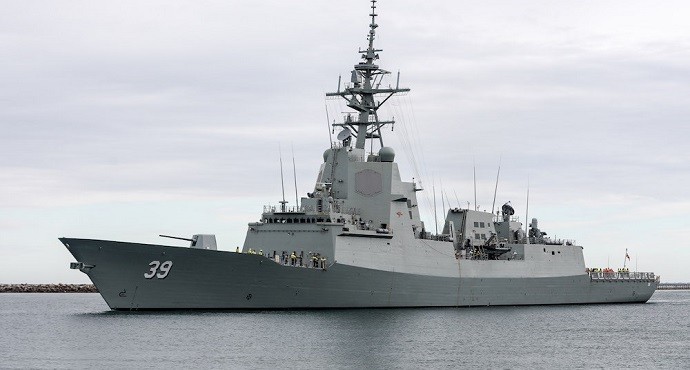 Raytheon to deliver unmatched anti-air Warfare Defense Technology to Australian Navy
Australia's first-of-class air warfare destroyer, HMAS Hobart, is receiving unmatched anti-air warfare system by Raytheon, US-based company and world-leader in defense and cybersecurity solutions.
The system has already been developed and tested by Raytheon and will be certified by the U.S. Navy for installation aboard the Hobart, the first international installation for the system, the company confirmed in a media release.
Onboard the Royal Australian Navy's HMAS Hobart, Cooperative Engagement Capability system (CEC) will expand the ship's battlespace awareness by sharing sensor data among a network of other Australian and allied CEC-equipped ships and aircraft.
CEC is a real-time 'sensor-netting' system that collborates radar data into one integrated air picture from geographically separated ships, aircraft and ground-based units. This technology improves task force effectiveness by enabling longer range, cooperative, or layered engagements.
"The addition of CEC is a major building block for Australia in their defense against anti-air warfare threats in the Pacific Region," said U.S. Navy Captain Jonathan Garcia, CEC major program manager, Program Executive Office Integrated Warfare Systems 6.0.
"This delivery to Australia marks a significant first – expanding the CEC network globally and increasing the U.S. Navy interoperability with a valued, strategic ally."
The equipment – certified hardware and software – will be installed on Australia's HMAS Hobart (DDG-39), and NUSHIP Brisbane (DDG-41) in coming months, followed by a comprehensive integration, test and evaluation period.
Raytheon will actively support CEC system integration and testing, including scheduled sea trials, similar to support provided for the U.S. Navy fleet.