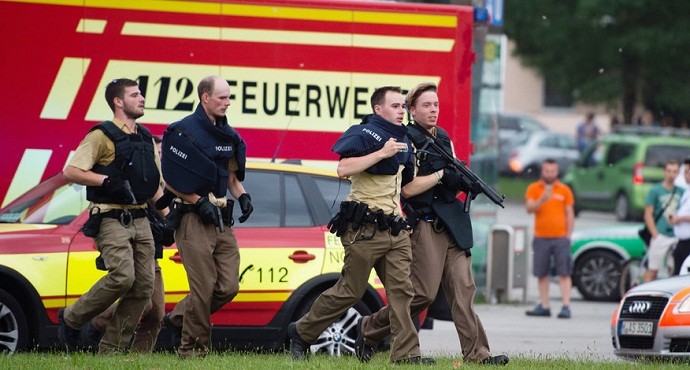 At least 9 people have been killed and several hurt in a shooting at a shopping centre in Munich
MUNICH (Germany) – At least nine people were killed and 26 others wounded in a shooting at a shopping centre in Munich on Friday, according to German police.
Munich police chief Hubertus Andrae said at a press conference early Saturday that the suspect was an 18-year-old German-Iranian man from Munich, armed with a handgun. The suspect had no criminal record and his motive is unknown, Andrae said.
The man was not known to police and his motives are unclear, authorities said. No group has claimed responsibility.
Many children were among the casualties. Police said 16 people remain hospitalized.
The shooting comes as recent terrorist attacks have put Europe on high alert.
Responding to witness reports of multiple gunmen, around 2300 officers were deployed including Germany's elite GSG9 anti-terror police, SWAT teams as well as federal police.
Public transportation was shut down in the area, and police were urging residents to remain indoors and avoid public areas.
Police initially were acting on the assumption that there were at least three attackers, based on witness accounts. Andrae said Saturday that several people rapidly left the site of the scene, but police now believe they were not involved in the attack.
German Chancellor Angela Merkel will convene her security council today to address the deadly shooting rampage in Munich, her chief of staff Peter Altmaier said.
Shortly after the attack, Munich police warned on Twitter: "The situation is still confusing. The perpetrator or perpetrators are apparently on the run." The police also urged people in Munich are to remain in their homes, in any case, avoid public places.
Meiden Sie öffentliche Plätze in #München. Die Lage ist noch unübersichtlich. #oez #Schießerei

— Polizei München (@PolizeiMuenchen) July 22, 2016
"There is a major police operation under way in the shopping centre," Munich police said on Twitter.
The Bild newspaper reported that the gunman ran through Munich's Olympia-Einkaufszentrum (OEZ) Shopping Center in the southern German city, firing on several people before fleeing in the direction of a nearby metro station.
#Munich: police say they are dealing with a shooting spree, multiple attackers fled the scene pic.twitter.com/JKh4onooGR

— I.E.N. (@GoldenKrant) July 22, 2016
The shopping centre (Olympia Einkaufszentrum) is a complex built in the 70s, close to the Olympic sports complex in Western Munich.
The Süddeutsche Zeitung newspaper said it received confirmation of the incident from the police, shortly before 6 p.m. local time (16.00 UTC).
Television images of people escaping from the center have been shown. They included women and children walking quickly away. An hour after the incident began, a police spokeswoman said authorities were still evacuating people from the shopping center.
Munich transport authorities said they have halted services on train, tram and bus lines because of the shooting.
The attack in European city follows a truck attack in the French Riviera city of Nice after Bastille Day fireworks last week that left 84 people dead.