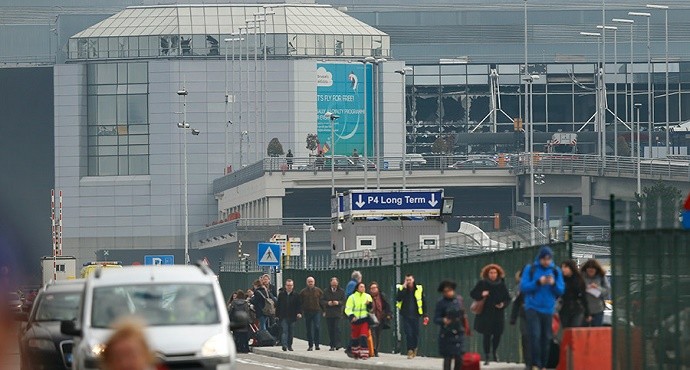 At least 34 reported dead – 14 at airport, 20 at Maalbeek metro – in coordinated attacks that  ripped the Brussels international airport early Tuesday shortly before another blast was heard at a metro station near the EU headquarters.
Three explosions that ripped through Belgium on Tuesday killed at least 34 people, according to Belgian media, and raised the specter of terror once again in the heart of Europe.
Two explosions ripped through Zaventem airport early this morning, killing at least 14 people according to Belgian authorities and injuring many more.
About an hour later, a third explosion hit the Maalbeek metro station in the EU quarter, killing 20 people, according to RTBF.
Belgium closed metro, train, tram and bus services in the capital Brussels on Tuesday following bomb blasts in the airport and metro, the authorities said.
'A Black day for Belgium' :Belgian PM
Belgian Prime Minister Charles Michel has condemned the "blind, violent and cowardly acts", calling it a "black day" for the country.
"What we feared, has happened," he said in a televised press conference. He said it was too early to confirm casualty figures but said that there were "many dead, many injured".
Tragedy and chaos in Brussels
Belgium's federal prosecutor has confirmed that the explosions at Brussels airport were carried out by a suicide bomber, according to broadcasters VTM and RTBF reported.
All flights were cancelled, arriving planes and trains were diverted and Belgium's terror alert level was raised to its highest level.
Authorities told people in Brussels to stay where they were, bringing the city to a standstill. Airport security was also tightened in Paris, London and other European cities.
European security officials have been braced for a major attack for weeks, and warned that ISIS was actively preparing to strike. Abdeslam's arrest on Friday heightened those fears, as investigators said many more people were involved in the Nov. 13 attacks that killed 130 people in Paris than originally thought, and that some are still on the loose.
"The metro was leaving Maelbeek station when there was a really loud explosion," Alexandre Brans, 32, told AP, wiping blood from his face. "It was panic everywhere. There were a lot of people in the metro."
The metro station hit by the explosion was Maelbeek, close to European Union institutions. There were no details immediately available of casualties in this second incident of the morning.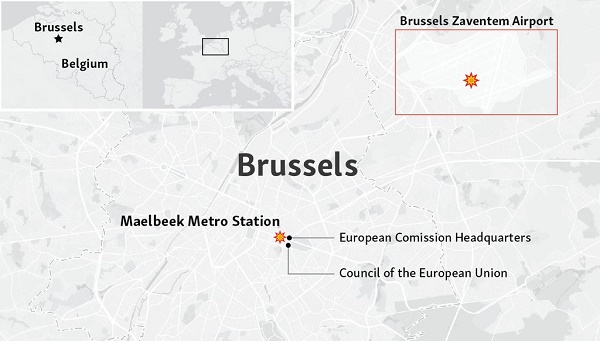 'It was a war scene,' says witness
Zach Mouzoun, who arrived on a flight from Geneva about 10 minutes before the first airport blast, told France's BFM television that the second louder explosion brought down ceilings and ruptured pipes, mixing water with blood from victims.
"It was atrocious. The ceilings collapsed," he said. "There was blood everywhere, injured people, bags everywhere."
"We were walking in the debris. It was a war scene."
The blasts triggered concern across western Europe with Britain calling a meeting of its crisis response committee. The Dutch military strengthening security at airports and borders and London's major airports Heathrow, Gatwick, Stansted and City said they were working to provide a high police presence.
Belgium's prime minister, Charles Michel, has warned the Belgian public to "avoid any movement" for the time being.
Pictures on social media show smoke rising from the terminal building through shattered windows and passengers running away down a slipway, some still hauling their bags.
All roads closed between France and Belgium
Libération newspaper is reporting that the border between France and Belgium has been closed to all traffic, including road traffic.
Meanwhiles, Brussels Airport issued a statement confirming that all flights have been cancelled for the rest of the day. Passengers are advised to contact their airline for further instructions.
Extra 1,600 police to be deployed around Franc

e

Some 1,600 extra police to be deployed around France to stations, airports and borders, says Bernard Cazeneuve, the interior minister. An extra 400 will be deployed in Paris.

Note: This is a developing story.