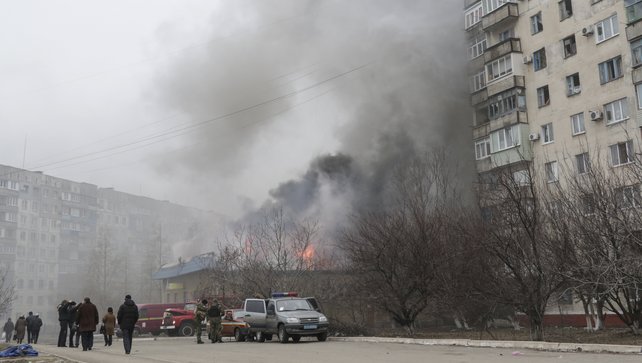 At least 30 people were killed and 83 others injured in the rocket attack on the port city of Mariupol, which is controlled by government troops. That's according to municipal officials loyal to Kyiv.
The Kyiv government and the pro-Russia rebels have blamed the shelling on each other, but investigators from the Organization for Security and Cooperation in Europe (OSCE), who rushed to the scene shortly afterwards, concluded that the attack had been launched from the east and northeast of the city – territory controlled by the separatists.
The rebel leader, Alexander Zakharchenko, while denying that his forces were behind the civilian deaths in Mariupol, announced that the pro-Russia separatists did intend to seize control of the city.
"Today an offensive was launched on Mariupol. This will be the best possible monument to all our dead," Zakharchenko was quoted as saying by the RIA Novosti news agency at a memorial ceremony being held in the separatist stronghold of Donetsk.
Zakharchenko had earlier rejected the ceasefire agreement which was signed in Minsk last September but has been repeatedly violated. This came just days after the foreign ministers of Germany, France, Russia, and Ukraine agreed new measures aimed at easing the fighting.
During the past two weeks, over 250 people have been killed and there's been seen a surge in fighting between government forces and rebels. This brings the overall death-toll in the conflict to more than 5,000 since last April.
Despite international calls for a new ceasefire, rebels vowed just a day ago that they would continue their offensive.
DW/AFP/EURONEWS