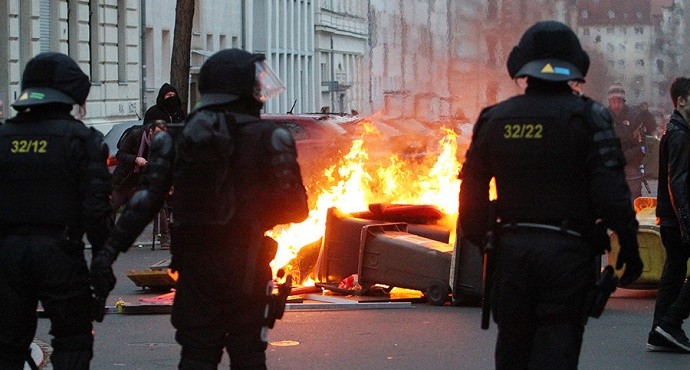 Police in Germany have fired water cannon, smoke grenades, and tear gas to disperse a large group of protesters, staging a rally to disrupt a neo-Nazi march in the eastern city of Leipzig 
FRANKFURT (Germany) — Around 69 police officers were injured while 23 protesters detained during a protest in the German city of Leipzig, according to local police news release.
Some 50 police cars were also damaged in the riots Saturday evening. Authorities, however, didn't say how many protesters were injured.
Left-wing protesters in the eastern German town of Leipzig clashed with police on Saturday, leaving scores of officers injured and almost two dozen demonstrators detained, police said Sunday.
The clashes came as hundreds of left-wing activists demonstrated against a rally held by far-right protesters in the town, police said. Police used water cannons and tear gas to disperse the rioters who threw stones at police, erected street blocks and burned containers.
During the violence in Südvorstadt rubbish containers were set ablaze, a bus stop demolished and windows broken. A police spokeswoman said masked persons in leftist ranks had attacked police "massively" during the rally by "a thousand violently-inclined leftist autonomists."
The clashes on the fringe of a leftist counter-rally were described by Leipzig's Social Democrat (SPD) mayor Burkhard Jung as "shocking."
"That is open street terror," Jung said, adding that "criminals" had discredited important, peaceful protest against neo-Nazis.
The student group "Durchgezahlt," meaning "all counted" in English, said 2,500 people had taken part in various counter-demonstrations against the neo-Nazi rally for which originally 600 participants had been expected.
Leipzig, a booming metropole of 560,000 with an innovative reputation, lies in Saxony, a regional state where elsewhere this year 126 attacks on hostels for asylum seekers, mostly arson, have been registered.
That count represented a quarter of all such incidents in Germany in 2015, said the monitoring website "Mediendienst Integration" on Friday.
Protestant pastor and youth worker Lothar König, 61, who had turned up to the leftist rally with his loudspeaker van, was accused by police of resisting officers and breaching the peace. The German news agency DPA said he was released on Saturday evening.