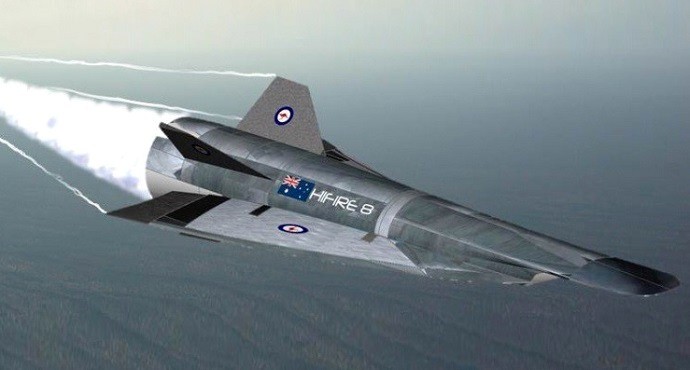 US and Australia conducted a successful Mach 8 HiFire 4 hypersonic missile test
The United States and Australia have concluded a series of hypersonic test flights at the Woomera test range in South Australia.
The $54m joint initiative involves the US Air Force Research Laboratory (AFRL), Boeing, the Australian Department of Defence's Defence Science and Technology Group (DST Group) , BAE Systems Australia, and the University of Queensland (UQ).
This vehicle is a free-flying hypersonic glider, designed to fly at Mach 8 (8000 km/hr).
As of July 12, 2017, the U.S. military and its Australian partners had concluded a round of experiments as part of the Hypersonic International Flight Research Experimentation (HiFIRE) program, including an unspecified number of actual test launches.
The test comes at a time where the US has begun active research towards the procurement of Air Launched Hypersonic Weapons for its fleet.
Australian Defense Minister Marise Payne specifically congratulated the team – a partnership between the U.S. Air Force Research Laboratory (AFRL), the Australian Department of Defense's Defense Science and Technology Group (DST), BAE Systems Australia, Boeing Research and Technology, and the University of Queensland – "on another successful hypersonic flight at Woomera test range," according to FlightGlobal, suggesting there may have only been one actual flight in this particular case.
The tests have achieved "significant milestones, including design assembly, and pre-flight testing of the hypersonic vehicles and design of complex avionics and control systems" Payne said.
She said Canberra and Washington DC are drafting plans for future hypersonic work.
BAE Systems Australia said in a statement that "the successful flight trial [was] the most complex of all HIFiRE flights conducted to date".
The US has been testing hypersonic aircraft missiles that could fly at a mile per second.
US has collaborated with Australia to research means to fly at least five times faster than the speed of sound – anywhere from 3,836mph up to 7,700 mph.
University of Queensland's chair of Hypersonic Propulsion Professor Michael Smart said the successful flight has advanced the realisation of hypersonic flight in Australia's commercial and defence sectors.
"Hypersonic flight has the potential to revolutionise air travel, making it faster and cheaper to travel around the world and into space," said Professor Smart.
"Fundamental research conducted over many years by UQ's Centre for Hypersonics, within the School of Mechanical and Mining Engineering, has made a significant contribution to this and previous HIFiRE flights," Professor Smart said.
The flight was targeted at gathering aerodynamic, stability and control data of the advanced configuration which was developed by Boeing.
The fuselage housed subsystems and on the next vehicle, HIFiRE 8, will provide space for scramjet integration. The stabilizers provided directional stability while at the same time allowing a larger size test vehicle to fit within the limited confines of the payload shroud.